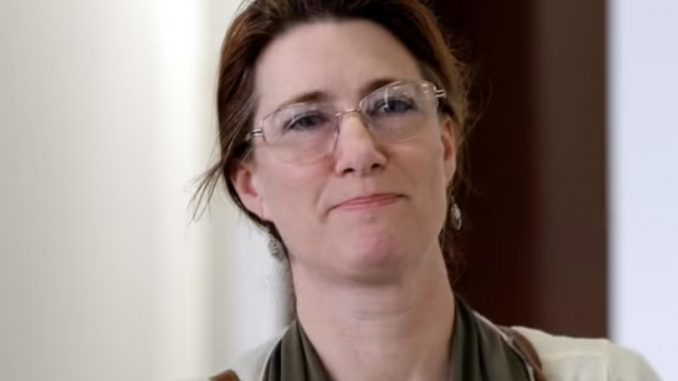 Picture: Julie DeVuono arrives at Suffolk County Court in Riverhead on Wednesday for her arraignment on upgraded charges alleging she ran a COVID-19 vaccine card scam. Credit: James Carbone
Julie DeVuono Faces Two Separate Indictments for Charges Including Forgery, Money-Laundering, Conspiracy, and Multiple Counts of Offering a False Instrument for Filing
12 April 2023
(SUFFOLK COUNTY, N.Y.) – Suffolk County District Attorney Raymond A. Tierney today announced that Julie DeVuono, 50, of Amityville, and her corporation Kids-On-Call Pediatric Nurse Practitioner, P.C., d/b/a Wild Child Pediatric Healthcare, face a 14-count indictment for allegedly selling forged COVID-19 Vaccination Record Cards, entering false information of receiving the vaccination into the state's immunization system, and laundering the proceeds from this criminal conduct. In addition, DeVuono faces a separate 20-count indictment for allegedly creating false prescriptions for Oxycodone for people who were not her patients and submitting these false prescriptions electronically to the New York State Department of Health (NYSDOH).
"This defendant thought she could use her position as a nurse practitioner to circumvent the law by allegedly uploading false information into New York state-wide databases," said District Attorney Tierney. "The defendant's abuse of authority in pursuit of her own enrichment put people's health and safety at risk, and it will not be tolerated in Suffolk County."
"Vaccination record cards are an important tool used to help protect public health and safety," said Naomi Gruchacz, Special Agent in Charge with the U.S. Department of Health and Human Services, Office of Inspector General (HHS-OIG). "HHS-OIG will continue to hold accountable any health care professionals who exploit their access to patient information, undermine crucial public health measures, and put the health of their communities at risk."
"Protecting New York's public-health programs from fraud, abuse, and criminal misuse is essential to community health and safety," said New York State Department of Health Director of Investigations Joseph A. Giovannetti, Esq. "Thank you to the Suffolk County DA's Office, Suffolk County Police Department, and HHS-OIG for collaborating with the Department of Health around this important enforcement work."
According to the investigation, between June 15, 2021 and January 27, 2022, DeVuono, while acting in concert with co-defendants Brooke Hogan and Marissa Urraro, a Licensed Practical Nurse, allegedly sold forged COVID-19 Vaccination Record Cards to customers and entered false information that the customer received a COVID-19 Vaccination into the New York State Immunization Information System (NYSIIS). In 2021, each adult customer was charged $220 for a false entry on the COVID-19 Vaccination Record Card and a false entry into NYSIIS. In 2022, each adult customer was charged $350 for a false entry on the COVID-19 Vaccination Record Card and a false entry into NYSIIS. False entries for children were $85 each. DeVuono then allegedly laundered the proceeds from the scheme by transferring funds through several accounts and reinvesting the proceeds back into the business in furtherance of her illegal operation. As a result of that investigation, DeVuono, and her corporation, Kids-On-Call Pediatric Nurse Practitioner, P.C., were indicted for the following charges:
Six counts of Forgery in the Second Degree, a Class D felony;
Five counts of Offering a False Instrument for Filing in the First Degree, a Class E felony;
One count of Money Laundering in the Second Degree, a Class C felony;
One count of Money Laundering in the Fourth Degree, a Class E felony; and
One count of Conspiracy in the Fifth Degree, a Class A misdemeanor.
Additionally, DeVuono is charged in a separate indictment with 20 counts of Offering a False Instrument for Filing in the First Degree, a Class E felony. According to that investigation, between February 2019 to February 2021, DeVuono allegedly submitted false prescriptions for Oxycodone for individuals who were not her patients, to local pharmacies in Suffolk County. DeVuono knew these electronic prescriptions would be filed with the NYSDOH after they were submitted to the local pharmacies electronically.
On April 12, 2023, DeVuono was arraigned on both indictments by Supreme Court Justice, the Honorable John B. Collins, who placed DeVuono on supervised release with GPS conditions. DeVuono is due back in court on May 19, 2023, and is being represented by Jason Russo, Esq. and Steven Gaitman, Esq.
These cases are being prosecuted by Assistant District Attorneys James Bartens and Adriana Noyola of the Financial Crimes Bureau.
Newsday, April 12, 2023
The attorney for an Amityville nurse practitioner accused of running an alleged $1.5 million fraudulent COVID-19 vaccination card scheme blamed "COVID hysteria" and a pair of subordinates for his client's legal troubles following her arraignment on money laundering charges Wednesday.
Julie DeVuono had "very little to do" with the vaccination side of her pediatric business and "did not commit any crimes," attorney Jason Russo of Garden City said of his client, placing the blame for the illegal activity instead on a pair of women who worked for DeVuono.
"Unfortunately, the COVID hysteria that has overcome this country has found its way into a courtroom right now," Russo said. "We're going to fight this vigorously."
DeVuono, 50, pleaded not guilty before state Supreme Court Justice John Collins in Riverhead to felony charges of money laundering, forgery of a government document and offering a false instrument, as well as misdemeanor conspiracy. Her corporation, Kids-On-Call Pediatric Nurse Practitioner PC, has also been indicted.
DeVuono told Collins she is still a licensed nurse practitioner and that she continues to operate her Amityville practice five days a week.
While DeVuono is not facing any bail eligible offenses, Collins did order her to receive GPS monitoring and he set a 5 p.m. curfew, conditions Russo said surprised him since they were not requested by the district attorney's office.
Prosecutors have alleged that after entering into an agreement with the Centers for Disease Control and Prevention to administer free COVID-19 vaccinations to the public in 2021, DeVuono directed practical nurse Marissa Urraro of Northport to fake giving shots to patients who would then receive a vaccine card in exchange for cash. The shots were then falsely reported to the state, prosecutors said.
Adult patients paid $220 to $350 per fake shot recorded with the state, according to a civil forfeiture complaint filed by Suffolk County District Attorney Ray Tierney against DeVuono last year. Fake pediatric shots ranged from $85 to $220, the complaint said. The employees often received cash payments from patients, which were kept in a safe at the office from which DeVuono would frequently remove cash, according to the complaint, which was filed last May.
To conceal the alleged scheme, DeVuono, Urraro and receptionist Brooke Hogan, of Patchogue, all of whom were criminally charged, "wasted" the doses the clinic reported administering to patients by dumping an equal amount of the vaccine into a trash can, the complaint said.
Urraro and Hogan were not charged in the new indictment and their cases have been sealed following court appearances last week. A district attorney spokesperson declined to comment on the status of their cases. An attorney for Urraro could not be immediately reached for comment.
"Counsel for DeVuono should be well aware that Ms. Hogan has detailed her truthful involvement in this situation as an employee for Ms. DeVuono," said Steve Politi, of Central Islip, who is representing Hogan. If curious about Ms. DeVuono's level of involvement in this operation simply follow the money."
Speaking outside the courtroom Wednesday, Russo distanced his client from the alleged scheme.
"During the time of COVID, where the vaccines were being given, there was a separate practice going on and I think you'll learn during the course of this, that my client had very little to do with that part of the practice," he said. "And these women were very heavily involved, and a lot of the doings and a lot of what was going on was happening because of what those women were doing … I suspect that they're working with the government to help themselves."
Russo said he attempted to negotiate a plea agreement for his client, but he no longer believes that's an option.
In the civil forfeiture action, Tierney alleged DeVuono used proceeds of the scheme to pay the mortgage on her Amityville house in the days following her arrest.
Tierney alleged in the filing that DeVuono, owner and CEO of a clinic operating under the name Wild Child Pediatric Health Care, authorized a $236,980 wire transfer just three days after her January 2022 arrest to pay the balance on a mortgage for the house owned by her husband, an NYPD pilot, according to the civil forfeiture complaint filed last May.
During the raid of the DeVuono home in January 2022, investigators recovered more than $869,000 in cash and a ledger indicating the scheme generated $1.5 million, according to the civil forfeiture complaint and prosecutor statements at her previous arraignment. DeVuono also shared some of the cash proceeds with her employees, prosecutors said.
Russo said the cash seized during the raid was earned by his client through "lawful gains through a very successful business practice."
The alleged scheme has been linked to a lawsuit in state Supreme Court in Brooklyn filed by an attorney for a group of 30 New York City public school teachers who were suspended without pay after an investigator reported they received their vaccine cards from the Amityville clinic, according to records in that case.
Supreme Court Justice Gina Abadi ruled in December that those teachers, 27 of whom previously had been granted tenure, should be returned to the classroom and awarded back pay. Those teachers have not been criminally prosecuted.
Derin DeVuono, the nurse's husband, was named as a noncriminal defendant in the civil forfeiture action. In that complaint, Tierney said his office intends to recover from Derin DeVuono the amount paid to satisfy his mortgage and any equity established in the time since then.

Grant Parpan covers Suffolk County courts and federal courts for Newsday. A Long Island native, he joined Newsday in 2022.
See also:
Susan Edelman, NY POST, April 15, 2023
Betsy Combier, Advocatz.com, January 5, 2023
Betsy Combier
betsy@advocatz.com