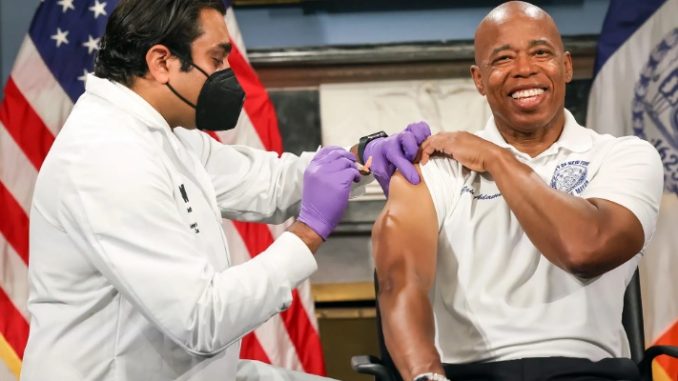 Picture: Mayor Eric Adams gets the COVID booster
Video: https://www.youtube.com/watch?v=pT8WMM9kajY
Mayor Adams has made a new Executive Order: private companies and students who want to play sports after school are no longer required to get the COVID vaccine. The COVID Vaccine Mandate is over for them.
But New York City's hard-working, dedicated municipal workers who were denied a medical or religious exemption from getting the vaccine are out of luck. They have been fired. This means firemen and women, police and education employees, all Minicipal Union members who work for the City. Prior performance records do not count. Students' and parents' admiration and respect for a certain teacher have no value; no one can work without vaccination if you work as a union member for the City of New York.
We all must remember that Adams did away with the COVID mandate for anyone who works on Broadway, or is in professional sports, in March.
Below is a NY POST Opinion piece by a parent, Margaret Nichols. We are posting this because we have heard from parents that they are furious with the Mayor for allowing the termination of so many teachers, leaving their children to be taught by inexperienced educators.
We agree that this is an unnecessary, unfair situation, and that a bill to allow the recall of public officials in office in New York City government should be voted on by the NY State legislature. Soon.
Betsy Combier
By Margaret Nichols, OPINION, NY POST, September 20, 2022
Tuesday morning, Mayor Eric Adams, flanked by a masked Health Commissioner Ashwin Vasan and Chancellor David Banks, ceremoniously lifted the private-sector COVID vaccine mandates for the city.
As a parting gift, former Mayor Bill de Blasio implemented the mandate, forcing all workers to have their first shot by Dec. 27, 2021, the first dictate of its kind in the nation. De Blasio would then hand over the office five days later, leaving pesky implementation on newly minted Mayor Adams' doorstep.
Approximately 184,000 businesses and millions of their employees were bound by this mandate. Adams could have been a hero on Day One of his administration by lifting the mandate but instead chose to let it ride out. In June, Newsday first reported that the mandate was not being enforced by the administration.
After Omicron, it became glaringly obvious that the vaccines did little to nothing to prevent the spread of COVID. Yet it took the Centers for Disease Control and Prevention until August of this year to announce "CDC's COVID-19 prevention recommendations no longer differentiate based on a person's vaccination status."
Apparently, COVID now has the capacity to distinguish between public and private employees. And even then, private employees won't be let off the hook until Nov. 1, seemingly due to some undisclosed, unspecified brand of "Science." If it's safe then why isn't it safe now?
This hypocrisy will surely lead to a slew of new lawsuits against the city. The public-sector mandate goes squarely in the face of current CDC guidance, bringing any rational person to question: What purpose does it hold?
When Adams was asked directly if he has plans to lift the city mandate, he replied, "Right now that is not on the radar for us." With respect to lawsuits, he answered, "that's where we have a legal team. Our corporation counsel is looking over every decision that we are making and we are in complete compliance with the law."
Paul DiGiacomo, president of the Detectives' Endowment Association, offered this statement in response to today's events: "Today's City Hall announcement dropping the vaccine mandate for only private sector workforce is irrational pseudoscience. . . . Based on this arbitrary decision, the union will be in court tomorrow and expects us to have our highly-experienced Detectives, who were unjustly cast aside, reinstated and reimbursed."
It's not just cops. Amidst a nationwide teacher shortage, the city laid off an additional 850 teachers and classroom aides this week due to the vaccine mandates. And yet it appears that Adams has been backed into a corner financially (if not morally) because the funds simply are not available to hire back the thousands of city workers affected by job loss due to the mandates.
Ongoing lawsuits will likely gain steam in light of these developments. Recently the three major lawsuits against the city (Kane v. de Blasio, Keil v. NYC, and New Yorkers for Religious Liberty v. NYC) were consolidated into one as they head to the Second Circuit Court of Appeals.
Margaret Nichols is a mother, 25-year New Yorker, and a parent/child advocate. Twitter: @magsnichols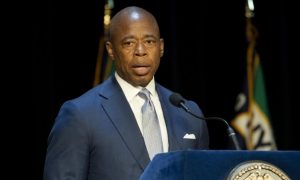 Says businesses should consider their own rules as he rolls up sleeve for a new booster
New York City Mayor Eric Adams said Tuesday a citywide COVID-19 vaccine mandate on private-sector workers and students who participate in extracurricular activities will become optional on Nov. 1.
Mr. Adams, a Democrat, said he will urge private businesses to develop their own rules as he dropped the contentious mandate in a press event on new "bivalent" booster shots that attack the original strain of the virus and variants that are circulating now. The mayor rolled up his sleeve for his own shot and said the city will advertise the boosters before winter.
"With so many tools now more easily accessible to keep New Yorkers safe from COVID-19, the additional flexibility we are announcing for private employers, students, and parents puts the choice back into each of their hands," he said. "We urge all New Yorkers to make a plan to get vaccinated if they are eligible, and we are grateful to the millions of New Yorkers who have already stepped up to keep themselves and their community safe."
Former Mayor Bill de Blasio issued the sweeping vaccine mandates on businesses at the end of 2021, one month before he left office. The rule caused a firestorm but was not strictly enforced.
The business community welcomed Mr. Adams' decision to make it optional.
"The mayor's decision to allow individual employers to determine COVID-19 protocols is most welcome," said Kathryn Wylde, president and CEO of the Partnership for New York City, a prominent business group. "It will accelerate return to the office and encourage
New Yorkers to move beyond the pandemic mentality."
Mr. Adams came into office this year pledging to revive the Big Apple's mojo after a bruising pandemic. It has been difficult, however, because concerns around crime and the availability of remote work have kept people away from its once-bustling business districts.
The mayor says workers feed the ecosystem of merchants in Manhattan and city hotspots, so it is important for employees to return.
The decision to ease off private-sector vaccine mandates will be seen as an extension of that effort but may spark new controversy since Mr. Adams said he plans to continue a mandate on city workers.
Tuesday's decision reflects a broader push to rely on booster shots and other tools to keep the virus in check instead of issuing sweeping social restrictions. President Biden recently declared the pandemic phase is "over."
Mr. Adams previously lifted vaccine mandates for entry to restaurants and bars and rules that governed professional athletes.
New York Gov. Kathy Hochul, a Democrat, recently lifted a mask requirement for public transit and relinquished emergency powers related to the pandemic as she prepares for a reelection fight against Rep. Lee Zeldin. The Republican said the powers allowed the governor to bypass normal competitive bidding requirements with contractors.
For more information, visit The Washington Times COVID-19 resource page.
The mayor's office said it had no plans to begin inspecting businesses or begin fining those that are not in compliance.
Mayor Eric Adams of New York City has not enforced the city's coronavirus vaccine mandate for employees at private businesses, and has no plans to begin inspecting businesses or begin fining those that are not in compliance.
Newsday first reported on the lack of enforcement of the vaccine mandate for private employers.
"We have been focused on prioritizing education instead of enforcement when it comes to the private sector mandate, which is how we've been able to get more than 87 percent of all New Yorkers with their first dose to date," Fabien Levy, a spokesman for New York City Mayor Eric Adams, said in an email.
Former Mayor Bill de Blasio unveiled a vaccine mandate for employees at private businesses in December, the most far-reaching local measure in the United States at the time. The mandate applied to around 184,000 businesses of all sizes with employees who work on-site in New York City.
Those concerns weren't unwarranted. During the first week of the mandate, from Dec. 27 to Dec. 31, just 31 percent of the 3,025 businesses inspected were found to be in compliance. But the Adams administration has stopped those inspections, and under his administration, no businesses have actually faced fines.
The city has been more rigorous in enforcing the vaccine mandate for public sector employees, many of whom have been fired from their jobs for failing to comply.
Mr. de Blasio said city officials would inspect businesses, and that business owners who refused to comply would likely face fines of up to $1,000. At the time, business leaders raised concerns about how difficult it would be to actually enforce the measure.
Ninety-one percent of people in New York City have received at least one dose of the vaccine, and 78 percent of people are fully vaccinated, according to The New York Times's coronavirus vaccine tracker.
Vaccine mandates, and the enforcement of them, are still essential, said Dr. Denis Nash, an epidemiologist at the CUNY Graduate School of Public Health.
"I believe that mandating vaccination in certain settings such as workplaces or venues has the potential to increase the population level coverage of vaccines," Dr. Nash said.
But, he added, the mandates need "some incentive or disincentive," otherwise it's unlikely people will comply with them.