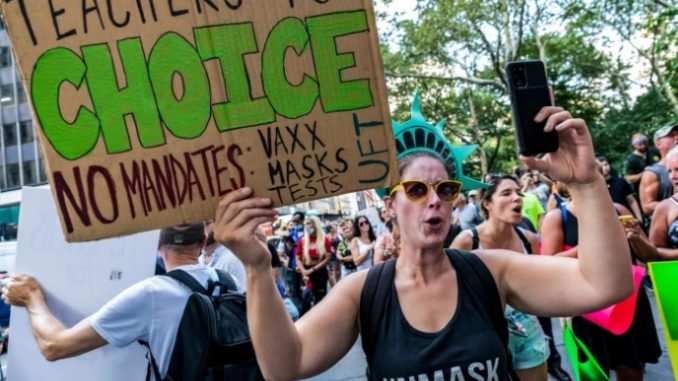 Teachers beware. NYC Mayor Eric Adams changes the terms of your employment whenever he comes out with an EXECUTIVE ORDER. This is what the NYC DOE Representative told the Department of Labor at a recent Unemployment Insurance Appeals Board hearing.
Also, claiming religious belief as a reason to not get vaccinated means that you quit your job.
This news is really disturbing, because Adams has, in just the last few months, issued 97 EXECUTIVE ORDERS (Keil-Kane federal Lawsuits)
Hundreds of educators working for the NYC Department of Education were fired during the last couple of months because they asked for medical and/or religious exemptions from taking the COVID vaccine. None were allowed due process, i.e. a 3020-a arbitration given by law and Union contract to all tenured educators (public policy and law in NYS).
The NY POST reports today that the New York City Police Department is putting the COVID vaccine mandate – which states that all workers must get vaccinated or will be terminated – on "pause" for now. The reasoning is that there are almost 5,000 NYPD employees who remain unvaccinated, and as the City is in turmoil because of rising violence, those people should remain on the job in order to support the Mayor's policy of  'fighting crime'…. if he is, indeed, fighting for an end to the deadly crime seen on the evening news every day.
No one is sure that Mayor Adams is doing anything but going out at night to party or be seen with celebrities. He is quickly losing the support of the voters in New York City.
Or, his efforts to allegedly protect the City of New York from a COVID resurgence could all be a secret strategy to bust the UFT and the teachers who have requested medical or religious exemptions and have been punished by the Adams administration. While only about 3% of the City's teachers have requested exemptions from taking the vaccine, and 163 have been granted their requests (numbers submitted to Federal Court in the Keil case), the unconstitutional limits placed on an individual's religious beliefs were forced upon every public employee in the City.
Indeed, the City issued over 97 different specifically applicable vaccine mandates forcing everyone to violate their faith not just to maintain their careers at the NYC Department of Education, but to work anywhere, in any field, in NYC. This series of Emergency Executive Orders eviscerated any argument that these Mandates were neutral or generally applicable.
On March 24, 2022, Mayor Adams issued Emergency Executive Order 62 ("EEO 62"), carving out athletes, entertainers and their entourages for special exemption from the City's vaccine mandates, not because they posed any less risk but because the Mayor felt that the City's economic health would benefit. Eric Adams has stated publicly that he loves baseball.
The  Order 62 explains:
"New York City athletic teams have been, and continue to be, at a competitive disadvantage because visiting teams can field unvaccinated players, and this competitive disadvantage has negatively impacted, and continues to negatively impact, New York City teams' success, which is important to the City's economic recovery and the morale of City residents and visitors."
Adams introduced EEO 62 in a live press conference.  In the press conference, the mayor made several bold statements:
"I've always said over and over again, we're going to focus on the science, we're going to do what's right, and we're going to make sure we're healthy. And being healthy is not only physically healthy. It's economically healthy. . .. In our nightlife, we're going to keep our nightlife industry thriving, a $35.1 billion industry. Everything from the cook, the dishwasher, the bartender, the bus boy or girl all feeds into this nightlife industry. And by putting our home teams on equal playing field, we increase their chances of winning. And that has a real impact on our city. This is just not fans in the stands, but it is people in the stores. Every time a championship or a game is played here at Yankee or Met Stadium." 
On May 21, 2022, the NYPD put the firing of cops and employees on "pause" during the summer, when crime statistics and the heat rises.
Nothing changes for teachers. If any employees of the NYC DOE claim exemptions for narrowly defined, limited-time medical or religious beliefs, they are labelled as deliberately resigning their jobs or quitting, and must be fired.
Several weeks ago at an Unemployment insurance Appeals Board hearing, the representative for the NYC DOE put it this way:
as the New York City Department of Education is under Mayoral control, anything that the Mayor orders becomes the terms of employment for all employees of the NYC DOE. Claimant has no right to unemployment benefits since she did not get the vaccine even though she was warned that City Hall would fire her. Thus, she quit her job.
The UFT is questioning these actions:
None of this is good government, and the little hope that anyone had for Adams' success at bringing New York City back to a thriving center of health and goodwill is almost gone.
Our opinion:
Lawless absurdity creates irreparable harm.
See also:
Betsy Combier
betsy.combier@gmail.com
By Susan Edelman and Dean Balsamini, NY POST, May 21, 2022
The city's vaccine mandate has been put on "pause" for the NYPD so the force can avoid losing nearly 5,000 cops and employees as the weather — and crime — heats up, The Post has learned.
Currently, 91 percent of the NYPD's uniformed cops and other personnel are vaccinated, City Hall says. That leaves an estimated 4,659 NYPD employees unvaccinated despite a deadline to get the shots by Oct. 29.
"In a nutshell, no decisions will be made, no further members will be forced to leave until further notice," said a veteran NYPD sergeant, explaining the unwritten rule. "There hasn't been any memo, just basically keep everything status quo and if issues arise we will revisit it down the road."
Last month, an undisclosed number of officers received final notices rejecting their requests for religious or medical exemptions to the COVID-19 vaccine mandate for municipal employees.
But an unspecified number of requests remain pending, letting cops and others in a state of limbo keep working.
One veteran NYPD cop who works in Brooklyn said he was forced to get the vax last month after his appeal for a religious exemption was denied. "I got an email saying if I didn't get the shot I would be placed on leave without pay and face termination."
But he added that he knew cops who called the personnel bureau "after the newest denials came down this week." They were told "the NYPD is not taking any action against anyone who is not vaccinated at this point."
Said the officer: "For anyone who has been fighting up until this point I am happy there seems to be a pause and hopefully it's permanent. I can't undo having to get the shot."
As of November, NYPD employees had filed 6,170 requests for religious or medical exemptions, the Gothamist reported.
The city on Friday did not give the status of those requests when asked by The Post.
Michael Kane, who heads Teachers for Choice, a group fighting COVID vaccine mandates for Department of Education and other city employees, called it unfair that any such pause would not take effect across the board.
"Why are certain city workers getting treated like they are [Brooklyn Nets star and anti-vaxxer] Kyrie Irving and why are other city workers being treated like they are expendable?" he asked.
"It seems that they need to do it because there's basically a crime wave in New York City," Kane said, suggesting that depleting the troops would handcuff public safety efforts. "They're going to be laying off cops, firing cops, trying to pressure and coerce them to get a shot? Tons of them are retiring. Especially for this new mayor, who wants to be the law and order Mayor. He's kind of stuck."