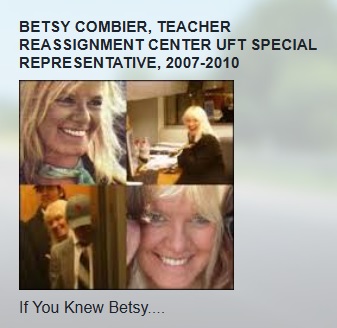 The Problem Code and the COVID Mandate
By Betsy Combier, Editor
In June 2022 I was asked by the attorneys in the Kane-Keil case to submit a Declaration Betsy Combier declaration on the "Problem Code" ("PR" code, "No Hire-Inquiry" code, PNOB, or Personnel Not On Budget) and I agreed to do that. Tagged on to my Declaration is an email from DOE employee Eric Amato, dated February 9, 2022, sent to Beth Norton at the UFT, saying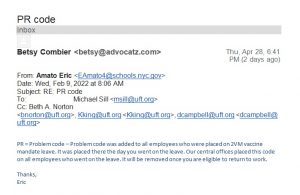 "PR code
From: Amato Eric <EAmato4@schools.nyc.gov>
Date: Wed, Feb 9, 2022 at 8:06 AM
Subject: RE: PR code
To:                         Michael Sill <msill@uft.org>
Cc: Beth A. Norton <bnorton@uft.org>, Kking@uft.org <Kking@uft.org>, dcampbell@uft.org <dcampbell@uft.org>
PR = Problem code – Problem code was added to all employees who were placed on 2VM vaccine mandate leave. It was placed there the day you went on the leave. Our central offices placed this code on all employees who went on the leave. It will be removed once you are eligible to return to work.
Thanks,
Eric"
I received this April 28, 2022. Mr. Amato is not longer working for the NYC DOE. Perhaps he was fired for sending this email? We do not know.
What we do know is, anyone who did not submit a valid vaccination card to the NYC Department of Education, was suspended without pay, given a Problem Code, and then terminated without any hearing. The NYC DOE is punishing their employees for the insubordination of not getting a vaccine that opposes their sincere religious beliefs, or could lead to serious health issues or even death. So, you either give up your beliefs or your right to maintain a healthy life, or keep your job. This is outrageous.
This matter is due process gone awry. when anyone makes a complaint against a DOE employee, and this person is unprotected by a family member high up in NYC Government or politically protected for any other reason, a Problem Code is placed on his or her Salary History in Galaxy, and this information is sent to the FBI and Criminal Justice Services so those agencies may research past arrests and/or misconduct.
My understanding is that even if the person is not already listed in these other databases if the accused employee is not under some kind of protected status, the Problem Code remains. The person will not know their fingerprints are flagged or that there is a block to getting paid until he or she looks for a job within the DOE or with a vendor that does business with the DOE. When he/she finds out about this error on his fingerprints he/she should immediately address this to OPI, and demand that they take him/her off the Code. When that does not happen, then it is time to think about negotiation, or lawsuit.
Contact me
betsy@advocatz.com
I uncovered this code when I heard about the "The Monitoring Unit" in 2004, and, intrigue always interests me, so I started researching what this code was and how it was implemented. I filed a Freedom of Information (FOIL) request for all documents connected with the Monitoring Unit but the NYC Department of Education FOIL office gave me nothing as the data was, they wrote, entirely made up of private social security numbers.
I started working on getting education employees off of the Problem code, and collecting cases.
Judge Alice Schlesinger in the case of Philomena Brennan v NYC Department of Education (Index Number 112977-2009) ordered the NYC DOE to tell the Court how Ms. Brennan could remove her file from the problem code. The NYC DOE (Represented by Theresa Europe) did not have a strategy and/or did not want to share any information on how to get off of the "ineligible" list, so Ms. Europe told the Judge the DOE would remove Ms. Brennan from the Code, thus making the issue moot.
I kept looking around, talking to my sources, and found enough information to write my first article about the code, which I posted on my website Parentadvocates.org in about 2007. I updated it in 2019:
By Betsy Combier, Editor, Parentadvocates.org
In 2018, Attorney Mallory O'Sullivan, then the Deputy Director of the Office of Employee Relations for the Board of Education of the City School District of the City of New York ("BOE") submitted a REPLY Affirmation in a case with Index No. 514560/18 in which she wrote:
"…I oversee the BOE's Office of Personnel Investigation ("OPI"), which is responsible for, among other things, screening and conducting background checks for all staff hired to work for the BOE or under a contract held by a BOE contracted Vendor…OPI is responsible for investigating any criminal history, employment history…once the applicant is fingerprinted, the images are sent to the New York State Division of Criminal Justice Services ("DCJS") and the Federal Bureau of Investigation ("FBI") to ascertain the results, if any."
In April 2022 I was representing an unvaxxed educator at PERB, and brought up the "Problem Code". The ALJ asked the NYSUT Attorney if he had heard of it. I knew the Attorney quite well, and he told the ALJ he knew about it, and "hey Betsy, how are you? Yes, we know about that code" (I got some leverage and points, that was nice). The ALJ then asked the NYC DOE attorney, "Have you ever heard of the Problem code"? The DOE Attorney said,
"Never heard of it".
Soon after this meeting, I received a letter from the ALJ asking for me to write a Statement about the Problem Code, and file a separate Complaint because it affected all teachers. (FYI -Non-Attorneys like me may represent Charging Parties at PERB)
In a second post on Parentadvocates.org, I wrote about the immense secrecy attached to the Code:
In NYC the Absent Teacher Reserve and The Rubber Room Are Both Strategies For Unlawful Denial of Tenure Job Protections
"I studied international secrecy strategies and whistleblower laws while doing graduate study at Johns Hopkins SAIS. Government deceit and keeping secrets are strategies used by governments all the time. (See TRAC at https://trac.syr.edu/foia/ and here: https://trac.syr.edu/ ). I love this description of the coverups of the Julian Assange whistleblower case:
"It remains illegal to classify information "to conceal inefficiency, violations of law, or administrative error; to prevent embarrassment to a person, organization, or agency." Presumably, that includes war crimes. Yet the secretive among us are classifying fifty million items a year, a perpetual fog machine." (emphasis added by me)
That's the DOE, UFT (United Federation of Teachers), and CSA (Council of School Supervisors and Administrators): "perpetual fog machines". I love that. So appropriate.
See also:
In August 2022 I was in a PERB status conference in another PERB case, and the ALJ told us that there was a ruling on the Problem Code and she would send it to me.
Here it is:  PERB U-32479 BD
There are several interesting facts about this decision:
First, the decision in 2022 cited above was the affirmation of the ALJ's decision to grant an improper practice charge alleging that the Board of Education of the City School District of the City of New York ("District) violated § 209-a.1 (d) of the Public Employees' Fair Employment Act (Act) by unilaterally placing a "flag" in its computer system next to the names of unit employees "represented by the United Federation of Teachers, Local 2, AFT, AFL-CIO (UFT), who have been the subject of discipline, allegedly causing those employees to be denied opportunities for transfers and permanent assignments."
The Department had filed exceptions to this decision (54 PERB ¶ 4522 (2021)). In my opinion the exceptions are great examples of the 'perpetual fog machine' at work. We all know that if a DOE employee looks for a job while flagged, any principal who wants this person will be blocked by Galaxy from paying this person. Additionally, as the Problem Code flag is not described as the result of any factual evidence, in many cases, the potential employer will be reluctant to hire the flagged individual because they may be afraid the person is guilty of something criminally prosecuted, and should not be working near children. This premise was the original purpose behind the Problem code, but in the implementation of the code on employees' fingerprints, this power to harm and destroy the lives and careers of wonderful people became the guide, not fairness and due process rights.
Back to the PERB ruling I received in August 2022.
I am astonished at the misinformation in that PERB decision, where the DOE testified, evidently  that a "new" system was put in place on March 15, 2012. In the Decision, we can read
"Katherine Rodi, Director of the District's Office of Employee Relations, oversees the Disciplinary Support Unit (DSU), which manages the District's online disciplinary support system. The DSU tracks employee discipline and is responsible for flagging employee names when appropriate. The DSU began flagging employee names in approximately May of 2012.
Rodi testified that the DSU will place a flag next to an employee's name in the Galaxy system only when two criteria are met. First, a substantiated report of discipline or misconduct must have been issued by one of the District's three investigatory bodies: the Office of the Special Commissioner of Investigation, the Office of Special Investigations, or the Office of Equal Opportunity. Second, the DSU must have evidence that the employee received a copy of the relevant disciplinary document.
That evidence normally consists of the employee's signature on the letter to be flagged, or on a mail receipt. If those criteria have been met, the DSU will manually flag the employee's name in the Galaxy system and will link a copy of the disciplinary document in question to the flag.
Rodi explained the several steps that must occur before a document is issued that can lead to the flagging of the employee's name in Galaxy. Initially, one of the three investigatory bodies mentioned above must have conducted an investigation that resulted in a report substantiating an allegation of wrongdoing against the employee. Next, the principal must meet with the employee to discuss the report. If the principal issues a disciplinary letter as a result of the meeting, that letter may serve as a basis for a flag. As set forth above, the DSU must also have evidence that the employee received a copy of that letter. Rodi testified that only documents that are in an employee's personnel file can serve as a basis for flagging an employee's name. If an employee files a rebuttal to the letter of discipline, the rebuttal letter is also linked to the flag in Galaxy. Disciplinary letters issued by principals due to misconduct that have not been substantiated by an investigatory body, such as a letter admonishing an employee for lateness, may not serve as a basis for flagging an employee's name and cannot be annexed to a flag."
The timeline makes no sense. I was helping teachers with the problem code starting in 2007. I know that many employees find out they have a problem code when they leave the Department of Education for one reason or another, and cannot get a job with the Department or any vendor later on, but were not given any information prior to leaving, nor were they told why their fingerprints were flagged. No one is ever made aware of any of the documents linked to the Code in their EIS Salary History.
I and several of the educators who never were vaccinated asked Beth Norton, General Counsel for the UFT, to help them find out if they are on the problem code and why it was there. When you are terminated you lose access to the EIS system, and you are no longer a Union member, but that's beside the point. Beth wrote back that the "flag" on a personnel file is not the "problem code".
In my opinion this is false information. I believe that the fingerprint flag is the problem code. I can clearly see the Problem Code at the top of the Salary History of employees who are blocked from getting paid due to the Problem Code or flag. What Ms. Norton said seems to be a semantic difference rather than a substantive difference, but no one will answer that question. I believe this is the perpetual fog machine once again in action. The New York City Department of Education withholds relevant and material information and documents as a standard practice and policy. FOIL requests are not completed for months or years.
My second reservation about the testimony given at PERB that resulted in the ruling in the case PERB U-32479 BD is  on p. 10:
"Amy Arundell, the UFT's Director of Personnel, testified that she first learned of the flagging system in October 2012 when Mathew Polisheck, a unit member, called her and told her that a principal rescinded his offer of a position and told him that he could not hire him because there was a flag on his file in Galaxy."
This is false information. In my Declaration submitted in the Kane-Keil case, BETSY COMBIER DECLARATION 6-2-22 on p. 3,  paragraph #10, I write that I worked for the UFT 2007-2010 (I left by choice) and whenever I was called by a UFT member who wanted to know if he or she was on the Problem Code, I would ask them for their file number and walk next door to the office of Amy Arundell, who would look at her computer and in about a minute tell me yes or no to the problem code on the file. She never mentioned "flag" or any other name. After hearing from Amy, I would return to my office and tell the person yes or no. Most certainly, Amy was talking about the Problem Code, and this was way before 2012. Perpetual Fog machine again.
My opinion and conclusions are based on research into cases brought to 3020-a Arbitration or filed in State or Federal Court, and I have almost all the decisions of Arbitrators since 2007. If my client wants to settle a case, we settle only if the problem code is erased from the person's personnel file. Let me add here that my information is that NYSUT Attorneys never mention the problem code to accused educators brought to 3020-a. In cases that proceed with a private attorney, no private attorney knows about the problem code (at least up to now) unless I am on the case. Sadly, I am often asked to review or Appeal a 3020-a case where the outcome was termination or an unfair fine. I would prefer, in a perfect world, that people understand the twists and turns of defending public employees at 3020-a, and win on the first round. Unfortunately this is not always the case, but it is possible, and I believe that all people harmed by the Department should fight to repair that harm, if personal circumstances allow, such as health and finances.
On my blog NYC Rubber Room Reporter, when I went with a discontinued teacher to her interview at OPI to get off of the Problem Code. Gina Martinez, pictured below, then a Supervisor, took TW off after hearing her sad tale, and I still value her help at that time: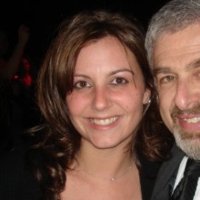 by Betsy Combier, Editor, NYC Rubber Room Reporter, November 11, 2014
On with this fight, informed and unafraid (Thanks, Bret Baier).
Betsy Combier, Editor
betsy@advocatz.com
Editor, ADVOCATZ.com
Editor, ADVOCATZ Blog
Editor, NYC Rubber Room Reporter
Editor, Parentadvocates.org
Editor, New York Court Corruption
Editor, National Public Voice
Editor, NYC Public Voice
Editor, Inside 3020-a Teacher Trials 
**********************************
Published yesterday:
DAILY CALLER
February 11, 2023
One year ago, New York City fired over 1,430 city employees who refused to take the COVID vaccine. Several of those workers filed a class action lawsuit against the City. During that lawsuit, the teachers' attorney introduced a sworn deposition stating that, when teachers refused the vaccination, the city flagged them as "problems" and handed their fingerprints over to both the FBI and the New York criminal justice system.
Michael Kane, the named plaintiff in Kane v. DeBlasio, has written a post revealing how New York City tried to criminalize teachers who refused to comply with the demand that they take injections of an experimental agent that's now proving to have been extremely dangerous. He explains that, during a hearing on February 8, the attorney defending New York City "stated that educators fired for declining covid vaccination were not removed for misconduct, but rather for not meeting a requirement for employment."
The plaintiffs' attorney, John Bursch, countered by pointing to the sworn Declaration of Betsy Combier, attesting to the fact that the City gave the fingerprints of these same teachers to the FBI and New York criminal justice system—an action indicating that the city viewed the teachers as criminal, rather than simply failing to meet a "requirement for employment." Here's what Combier, a paralegal specialist who worked for the United Federation of Teachers ("UFT"), stated under oath regarding the city's actions vis-à-vis the FBI and the New York criminal justice system:
8. I am also very familiar with "problem codes"—the flag the DOE [New York Department of Education] puts in the personnel file of employees to indicate that they should not be hired due to unexplained misconduct of some kind. Employees can be flagged for everything from receiving an unsatisfactory or ineffective rating to engaging in egregious criminal acts.
9. When the DOE puts a problem code in the employee's personnel file, it also places a flag on the employee's fingerprints, which is then sent to the national databases at both the Federal Bureau of Investigation and the State Division of Criminal Justice Services.
12. I know of many former DOE employees who have problem codes in their personnel files because they declined to be vaccinated in violation of the DOE's mandate and were not granted a religious or medical exemption. The DOE places a problem code on the employee's personnel file immediately upon getting information that the employee did not submit proof of vaccination. As soon as the employee gets the vaccination and submits proof, the code is removed from his or her file.
Combier further testifies that schools in New York state that are thinking of hiring those teachers fired for not receiving the vaccinations would check the teachers' records in a system called Galaxy, which also contained that "problem" designation. Those teachers who were refused new jobs believe that this designation, which carries with it the suspicion of criminal wrongdoing, was the bar to their finding new employment.
I don't have any grand conclusions to draw about this. It's sufficient to know that the New York City school system treated teachers who refused a vaccine as criminals, and those same teachers, unbeknownst to them, were suddenly and automatically part of the FBI's and the New York criminal justice system's database of people suspected of criminal activity or propensities. Really, do I need to say more?
The following is an excerpt from The Defender.
Unvaccinated New York City teachers were reportedly "flagged" and their fingerprints sent to the FBI, according to an affidavit filed in federal court last week.
In the New Yorkers for Religious Liberty Inc. v. The City of New York appeals hearing, challenging the now-rescinded vaccine mandate for city employees, plaintiff's attorney John Burch said that "flagged" teachers were labeled with "problem codes" that impact their ability to get another job.
The allegations were based on a June 2022 affidavit written by Betsy Combier, president of the due process advocacy group Advocatz, detailing how the New York City Department of Education (DOE) flagged unvaccinated teachers without evidence of misconduct and sent their information, including fingerprints "to the national databases at both the Federal Bureau of Investigation and [New York's] State Division of Criminal Justice Services."
Sujata Gibson, an attorney representing the plaintiffs, commented on these revelations to The Defender:
"These are hardworking teachers and educators with excellent employment records who dedicated their lives to teaching in the New York City public schools. It is unacceptable that the DOE would place problem codes on their employment files and flag their fingerprints with the FBI simply because they were not able or willing to get vaccinated.
"This was never about public health. This was about punishing those whose religious and other beliefs don't line up with corporate interests in an effort to make it impossible to dissent."
Michael Kane, national grassroots organizer for Children's Health Defense and founder of Teachers For Choice, reported the "problem codes" on Feb. 9, one day after the hearing in the 2nd U.S. Circuit Court of Appeals.
Unvaccinated teachers denied jobs due to the 'problem code'
According to Combier's affidavit, the DOE assigns "problem codes" to the personnel files of employees that "should not be hired due to unexplained misconduct of some kind."
The affidavit stated:
"When the DOE puts a problem code in the employee's personnel file, it also places a flag on the employee's fingerprints, which is then sent to the national databases at both the Federal Bureau of Investigation and the State Division of Criminal Justice Services.
"I have represented more than 15 DOE employees before the DOE's Office of Personnel Investigation in proceedings in which they requested the removal of their problem codes. The flag has several names such as 'problem code,' 'pr' code, 'pc' code, 'ineligible,' and 'no hire/inquiry' code; however, all refer to a salary block, whatever title it is given."
Attorneys for the city did not deny the veracity of this information in court.
[Michael] Kane, wrote, "Attorney Susan Paulson who was defending NYC stated that educators fired for declining Covid vaccination were not removed for misconduct, but rather for not meeting a requirement for employment."
"If there was no misconduct, why are unvaccinated educators' fingerprints sent to the FBI?" asked Kane.
Read more at this link.
About Sharyl Attkisson