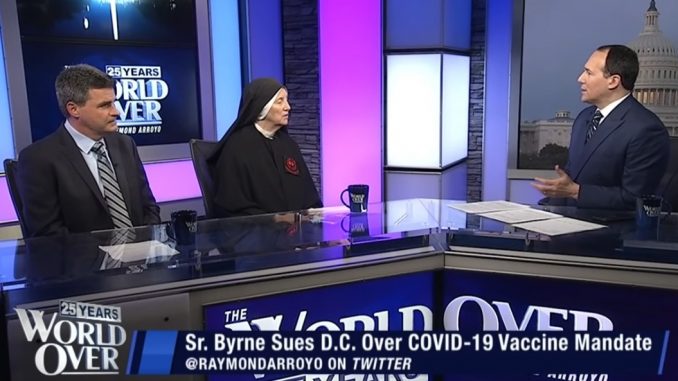 Sister Dierdre Byrne, a Roman Catholic nun who is also a physician-surgeon and a retired U.S. Army colonel, is suing Washington, D.C. for denying her a religious exemption to its COVID-19 vaccination mandate for health care workers.
Known as "Sister Dede," Byrne was an Army doctor who did a three-month tour in Afghanistan as a reservist prior to joining the Sisters of the Little Workers of the Sacred Heart. In Washington, she serves as medical director of her convent's free medical clinic. She also operates an abortion pill reversal ministry in the city.
She objects to the mandate on moral grounds because all three vaccines approved for use in the United States "have been tested, developed, or produced with cell lines derived from abortions," which she says violates her Catholic beliefs, according to a statement from one of her attorneys, Christopher Ferrara, special counsel for the Thomas More Society, a nonprofit law firm focused on religious liberty cases.
The district began requiring health care workers to be vaccinated against the virus that causes COVID-19 in August. Though the policy includes exemptions for medical or religious reasons, Byrne's application was denied.
In an interview with Raymond Arroyo that aired on EWTN's "The World Over" March 10,  Bryne said the city has suspended her medical license because she remains unvaccinated, though she maintains she has natural immunity to COVID-19 after contracting and recovering from the coronavirus.
"I can't practice. I've closed my clinics for the month. I can't see patients. I just can't help anyone," said Byrne, a board-certified general surgeon and family physician.
Byrne told Arroyo she decided to fight the district in court "because I feel like I'm just a little tip of an arrow of so many people who are being forced to do the same thing." You can watch her full interview with Arroyo in the video below.
You Tube link: https://www.youtube.com/watch?v=uPbFbQqM468&list=PL0B89A05F9F6D3E47&t=46s
The Thomas More Society filed the lawsuit on March 9 in U.S. District Court for the District of Columbia. DC Mayor Muriel Bowser, the district's health department, and other district officials are named as defendants.
"The suit against Bowser and DC Health (the district's health department) is based upon the Religious Freedom Restoration Act of 1993 and the First Amendment to the United States Constitution, both of which protect Sister Dierdre's fundamental right to the free exercise of her religion," Ferrara said in the statement. The lawsuit notes that Bowser has twice been previously chastised by the court for burdening religion by her abuse of "emergency powers."
 "Judicial intervention is required once again," Ferrara said. "This time to prevent a senseless bar on the practice of medicine by a religious sister who has devoted her career in the District of Columbia to healing the sick who cannot afford quality medical care."
You can read the full complaint here.
Shannon Mullen is the Editor-in-Chief of CNA. He previously worked as a features writer, investigative reporter, and editor with the Asbury Park (N.J.) Press.