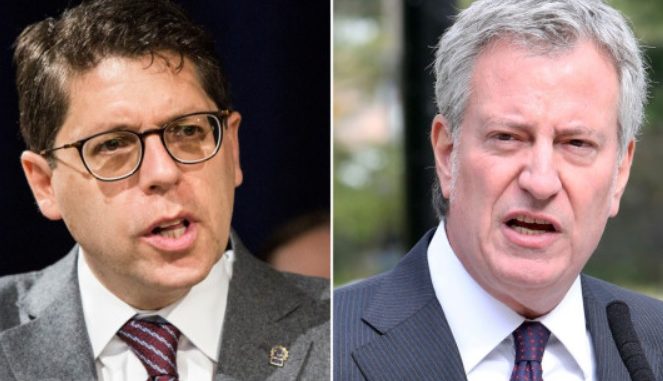 What is obvious from the mess that Mayor Bill de Blasio has created in New York City is that he does not permit any challenges or accountability for his actions.
We know that the recent snowstorm left NYC immobilized. The lack of a strategy to deal with 6 inches of the white stuff from the sky is another flag on Bill de Blasio's record, which we hope the public takes heed of if, or when, he decides to run for national office. He should seek an early retirement, truth be told.
Bill de Blasio, in control of the NYC Department of Education, has destroyed due process for all stakeholders – students, parents, guardians, teachers, Assistant Principals, Principals, management. Whatever your title is, if you do not do as told by a higher up and support the person you are told to support you will pay the price: libel, hostile work environment, termination, career destruction. Mark Peters tried to hold the Department of Education accountable for the many abuses they permit of agency rules and laws on a daily basis. remember, a law, rule or regulation is only as good as its implementation.
I no longer recommend a public school education for any child, and I help parents with special needs children get out and transfer to a private school. There is nothing in the DOE which honors the safety and welfare of kids who are "different" – different in looks, actions, intellect and or other  characteristic.  Thank goodness there are wonderful, dedicated educators out there who rise above the fray
Our wonderful city expects silent robots to do their work every day, in their little box overrun with policies that must be followed and forms that must be filled out except when they aren't, for political reasons. Everything is random and arbitrary. Everyone should be taping everyone who speaks to him/her, or calls/emails anything. This is simply the times we live in. Mobbing and bullying are rampant, and no city agency cares to fight these ruinous alliances. Indeed, there is no policy out there right now to deal with internet cyber abuse, except after someone is harmed. Ruth, I mean you. Thank you.
So it will not be Mark Peters who holds the NYC DOE accountable, at least as DOI Commissioner. Someone open their books and hire him to continue his very necessary work. Mark Peters letter 11.19.18 to Speaker.
Betsy Combier
betsy.combier@gmail.com
Editor, Advocatz.com
Editor, NYC Rubber Room Reporter
Editor, Parentadvocates.org
Editor, New York Court Corruption
Editor, National Public Voice
Editor, NYC Public Voice

By William Neuman, November 19, 2018
It began like a run-of-the-mill bureaucratic flare-up, a small power struggle early this year between officials in Mayor Bill de Blasio's administration and New York City's investigations commissioner over a little-known office that handled inquiries into the school system.
By Monday, it had ballooned into a public-relations crisis for the mayor, exposing him to lurid allegations that he or his administration had tried to cover up embarrassing inquiries, accused the commissioner of being disloyal and ultimately dismissed him in the interest of damage control.
Mr. de Blasio on Friday took the rare step of firing the investigations commissioner, Mark G. Peters, whose role scrutinizing all areas of city government normally comes with a broad measure of independence.
It did not take long for Mr. Peters to fire back. He released an acid-ink letter on Monday, accusing the mayor of carrying out a vendetta, and acting out of fear over what he might dig up next.
Mr. Peters described receiving an angry call from the mayor in January 2017, in which he said that Mr. de Blasio asked him not to release a report critical of the Administration for Children's Services.
"When I informed the mayor that D.O.I. was obligated to make its findings public, he yelled at me, accused me of trying to bring his administration 'down,' and then informed me he was 'going to hang up now before I say something I shouldn't,'" Mr. Peters wrote.
The fracas over the investigations commissioner capped a challenging week for Mr. de Blasio, who faced criticism over the city's handling of Thursday's snowstorm, a backlash from his fellow progressives over the deal to bring Amazon to Queens and a judge's rejection of a dealthat would have appointed a federal monitor to oversee the troubled New York City Housing Authority.
At an afternoon news conference, Mr. de Blasio energetically pushed back on Mr. Peters's allegations.
"False, it's just false," Mr. de Blasio said when asked if he had telephoned Mr. Peters to pressure him to withhold a report. "I'm sure I had conversations with Mr. Peters and I'm sure I had disagreements, but that characterization is false."
He added, "I will only say, broadly, there have been conversations about reports, about accuracy, about specific recommendations, all sorts of things, but never a conversation where there was an effort to inhibit the actions of D.O.I. on a specific report."
Mr. de Blasio could not keep from letting his irritation show, as he was peppered with questions about Mr. Peters. "I'm sorry he has delusions of grandeur in thinking that everything revolves around him," the mayor said.
If the nasty back-and-forth seemed unusually personal, there is a good reason: Mr. de Blasio and Mr. Peters became friends at least as far back as the 1990s, when they both served on a local school board in the liberal political circles of Park Slope, Brooklyn.
Mr. de Blasio's political career took off, and by 2013 he was running for mayor, with Mr. Peters as his campaign treasurer. Once elected, Mr. de Blasio named Mr. Peters to lead the Department of Investigation. The choice brought criticism: Could Mr. Peters have the independence to subject his friend's administration to real scrutiny?
Mr. Peters seemed to answer the question with a series of highly critical reports, exposing shortcomings and mistakes on Mr. de Blasio's watch, including failures to inspect for lead paint at the Housing Authority and lapses at the Administration for Children's Services.
But while Mr. de Blasio and his aides may have chafed at the criticism, there was little they could do; firing the investigator who exposed his failings was politically impractical.
But then Mr. Peters overreached. Early this year, he moved to exert his control over the quasi-independent schools commissioner's office. When the Education Department pushed back, Mr. Peters persisted, ultimately firing the schools investigator, Anastasia Coleman, when she questioned his authority.
Ms. Coleman filed a whistle-blower complaint and an independent investigator was hired to look into the allegations. The investigator's report was completed last month, revealing a pattern of abuse of power and abusive behavior by Mr. Peters.
From that moment the clock was ticking: Would Mr. de Blasio use the investigation to unseat his nemesis?
He did so on Friday, eliciting relatively muted objections from the City Council, which had previously defended Mr. Peters, and would have to approve his successor.
But the storm broke anew on Monday, with Mr. Peters's letter.
Although Mr. Peters had previously apologized for his conduct regarding the whistle-blower, he disputed the factual findings of the investigation, and asserted that the mayor had other reasons for dismissing him.
"The context of the mayor's interactions over the past several years with D.O.I., combined with certain ongoing investigations about which the mayor and his senior staff are very much aware, must cast doubt upon the mayor's true motives," Mr. Peters wrote in the letter, which was addressed to the City Council speaker, Corey Johnson, and the chairman of the council's committee on oversight and investigations, Ritchie Torres.
He wrote that pressure placed on him by the mayor's office amounted to "an attempt to punish and intimidate D.O.I. for its past work."
Mr. Peters said that, aside from the 2017 call from the mayor, senior City Hall officials had on several occasions urged him not to release reports critical of the administration. He also expressed concern that ongoing investigations might be quashed by a new commissioner appointed by Mr. de Blasio.
Mr. Torres, the city councilman, issued a statement saying that Mr. Peters's letter "reveals a pattern of interference with D.O.I. investigations and intimidation against D.O.I. officials that borders on the unethical and should be illegal."
Some of the instances where Mr. Peters said City Hall officials sought to pressure him involved top mayoral officials. Mr. Peters said that in April 2017 a senior official asked him to "forbear" from issuing a report detailing how the correction commissioner, Joseph Ponte, had misused a city vehicle assigned to him, saying that it would be embarrassing to Mr. Ponte.
Mr. Peters released the report, and he wrote in his letter Monday that "I subsequently had multiple conversations with people who informed me that the mayor and his senior staff were 'really angry,' felt I should be more 'loyal' and now wondered if I was 'still a friend.'"
He also said that an official had asked him not to release the report on lead inspections at the Housing Authority. He released it anyway.
[For at least two decades, the Housing Authority routinely disputed tests that revealed lead in its apartments. Read more here.]
Mr. Peters also wrote that the Police Department had on multiple occasions refused to cooperate with his investigations. He described a meeting in 2016 in which "a senior N.Y.P.D. official conspicuously displayed his gun," adding that the official later told another person that he had intended to "intimidate the D.O.I. officials" at the meeting.
Taken together, Mr. Peters said those incidents demonstrated that Mr. de Blasio and his staff "believe that I owe a duty of loyalty to the mayor rather than to the city as a whole."
Mr. de Blasio dismissed the allegation.
"Unfortunately this is an individual who did some very inappropriate things," Mr. de Blasio said. "There was an independent investigation by a respected investigator, who he handpicked."
He added, "I am exercising my authority under the charter to make sure there's a change in that office and we bring in someone new and independent and strong."
Mr. Peters also expressed concern that several investigations "that could implicate the mayor and/or his senior appointees" could be quashed. Those include an investigation into whether City Hall interfered for political reasons in a review of the educational quality at several Jewish religious schools; further investigations into "unsafe conditions" at the Housing Authority; and a review of "sexual assault investigations at the N.Y.P.D."
Rory Lancman, a city councilman from Queens, voiced the thoughts of many New Yorkers over the unseemly tit for tat at the top of New York City government.
"This gossipy back and forth," Mr. Lancman wrote on Twitter, "debases both D.O.I. and the mayor's office."
William K. Rashbaum contributed reporting.