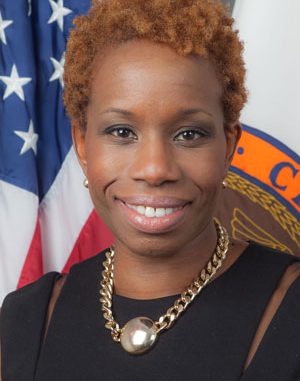 NYC PUBLIC VOICE
Shola Olatoye
New Yorkers are fed up with the corruption of Mayor Bill DeBlasio, but have 4 more years to cry over him, and the damage he has done to NYC and its residents in NYCHA Housing. Yes, we are referring to the neglect, incompetence, and/or fraud of NYCHA Chairwoman Shola Olatoye.
Yep, he was re-elected. He is part of the well-oiled Clinton political machine, after all, so there are globs of immunity attached to him, his office, and the people who work with and for him. The DeBlasio culture is "play-if-you-pay" and "deny, deny, deny" if you are asked questions.
So sad to see the New York City stuck in such sewage.
Betsy Combier
betsy@advocatz.com
betsy@advocatz.com
Editor, NYC Rubber Room Reporter
Editor, Parentadvocates.org
Editor, New York Court Corruption
Editor, National Public Voice
Editor, NYC Public Voice
Editor, Inside 3020-a Teacher Trials
City Filed False Paperwork on Lead Paint Inspections, Inquiry Finds
The chairwoman of the New York City Housing Authority knew in the middle of 2016 that the agency's inspectors had not been checking apartments for lead paint, in violation of federal rules and local law. But in the fall, city investigators found, she signed off on paperwork certifying that the inspections had been completed.
The finding came Tuesday in a short but damning report from the city's Investigation Department that described how the agency, which runs the city's 180,000 units of public housing, had for years failed to inspect for lead paint, but told the federal authorities that it was doing so.
And even after the chairwoman, Shola Olatoye, learned of the lack of compliance, the agency filed paperwork stating that it abided by the requirements, which are tied to federal funding.
"Although Chair Olatoye, the general manager and other senior executives were aware that Nycha was out of compliance," the report said, "Nycha nonetheless submitted a false certification in October 2016, and had no reasonable explanation why this was acceptable."
The issue of lead paint in city public housing is an element of an expansive and continuing federal investigation by the United States attorney for the Southern District of New York that came to light last March, and appears to include whether the agency filed false claims for payment from the federal government.
A spokeswoman for the Investigation Department, Diane Struzzi, said the findings had been referred to federal prosecutors, who ultimately decide whether or not charges would be appropriate. A spokesman for the Southern District declined to comment.
Asked of the federal inquiry last year, Mayor Bill de Blasio said that the administration would "fully cooperate" with the investigation, "and anything we find, we will fix immediately."
The housing authority is struggling with the costly job of maintaining its sprawling network of aging buildings, and, after reaching a settlement with residents in late 2013, is already under supervision by a court-appointed special master to address mold.
Lead poisoning is less common in public housing than in private apartments, according to city officials, and the number of children with lead poisoning has declined by about two-thirds since 2005.
"Under Chair Olatoye, Nycha identified gaps in its lead-based paint inspections and is making operational changes to prevent lapses like this," said Melissa Grace, a spokeswoman for Mayor de Blasio. "We do not believe there's any evidence that anyone intentionally made any misstatements to H.U.D."
According to the eight-page report, the city ceased conducting annual inspections of apartments for general conditions after the Department of Housing and Urban Development relaxed its rules for doing so in 2012; it was in the course of those checks that the authority looked for lead paint, which can cause serious health and developmental problems, particularly in young children.
The federal government did not end its requirement for annual inspection of all apartments where the possible presence of lead paint has not been ruled out. But the city did not institute a new plan for lead paint inspections. About 55,000 apartments in the city's public housing system fall under the federal rules for annual inspection; of those, roughly 4,200 have children under 6 years old and must be inspected each year for lead paint under city law.
The city did not meet those requirements after 2012, according to the report, but filed paperwork saying that it had from 2013 to 2016 — the last year of the Bloomberg administration and the first three years of Mr. de Blasio's tenure. The housing authority acknowledged as much in an amendment to its filing with federal officials in July 2017, after the Investigation Department and federal prosecutors had begun inquiries into lead paint in the city's public housing.
But long before that public acknowledgment, the report said, senior officials in May 2015 were aware that the required checks under local law were not being done and were meeting to come up with a plan. It was not until the following spring, the report said, that Ms. Olatoye learned of the violation of local law, and not until the summer of 2016 that the agency determined it was not complying with federal rules.
During that time, investigators determined that "Nycha failed to put in place a system to confirm the accuracy of federal forms before they were submitted."
A spokeswoman for the agency, Jean Weinberg, said in an email that the agency "began addressing these issues more than a year ago" in connection with the federal investigation. "Nycha has acknowledged not only gaps in lead compliance," she said, "but gaps in communications between senior Nycha officials and Nycha's top leadership, which resulted in incorrect certifications to HUD"
She said that after the agency understood "the full scope of the issue," and after consulting with the U.S. attorney's office and federal housing authorities, the agency in July told residents of the issues, "along with the plan to address them."
A spokesman for the federal housing department said in a statement that officials there were aware of the "deficiencies," and that they had "requested that Nycha account for its noncompliance and provide an action plan" to ensure it meets and abides by the rules.