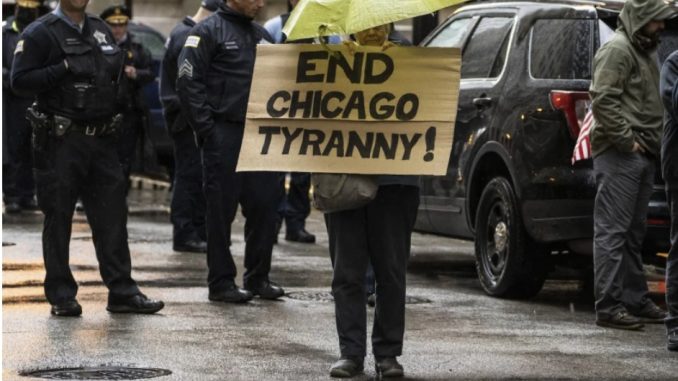 Even though the Unions allegedly "negotiated" with the City of New York over COVID-19 vaccinations, I believe these negotiations were political scams and fraudulent, and anyway, New York City workers were never allowed to ratify any of the 'new' terms. Then, in order to stop municipal workers from having any standing to object, everyone who refused to get the COVID-19 shot was fired or put on Leave Without Pay, which is a disciplinary punishment for the misconduct of not getting vaccinated. See Vaccine Mandates MLC, February 22, 2023
Yeah, this makes perfect sense.
New York City must be the next Defendant to lose in a case where the cause of action cites fraudulent, wrongful termination, extortion, and retaliatory discrimination.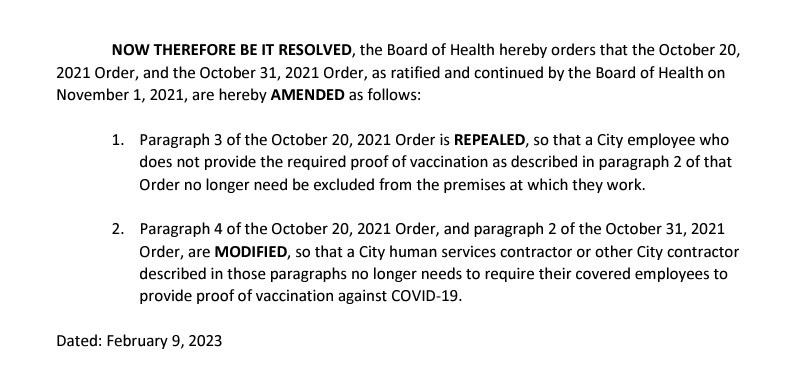 Courts must order that everyone who wants their jobs back gets reinstated, and everyone who was terminated gets their full backpay with interest. I hope everyone who wants any of this to please complete and file a Notice of Claim. As the effective date for the COVID Mandate 's end was February 10, 2023, May 10 2023 is the last day (90th day) to claim that the end of the COVID Mandate in NYC affected you and your employment.
After reading what happened in Chicago, this statement above is my final answer to the question "What about New York City?".
We can do this.
Betsy Combier
betsy@advocatz.com
In a case that applies to members of several unions, an administrative law judge for a state agency rules the city has to reinstate workers and make up for lost wages and benefits.
Unionized city of Chicago employees fired or disciplined for violating COVID-19 vaccination requirements must be reinstated and repaid for any loss of wages or benefits, a state hearing officer has ruled.
The decision in a case before the Illinois Labor Relations Board applies to city workers represented by trade unions or by the American Federation of State, County and Municipal Employees. The unions banded together to challenge regulations Mayor Lori Lightfoot imposed starting in 2021.
Administrative Law Judge Anna Hamburg-Gal said the city violated the Illinois Public Labor Relations Act by not bargaining in good faith over vaccine requirements and changes in sick leave policies. Her ruling, issued Wednesday, requires the city to "make whole" workers who lost pay and benefits, plus 7% annual interest.
The ruling is a broad rebuke of Lightfoot's get-tough policies on city workers who resisted vaccination mandates, but it's not known how many employees were penalized. One source said a few dozen employees may be directly affected by the decision.
Hamburg-Gal's ruling goes to the agency's board for review, and any party in the case has 30 days to file an appeal, called an "exception" in this process. The agency's final decision can be contested directly with the Illinois Appellate Court.
"We think it's a strong decision and favorable for worker rights generally," said Anders Lindall, a spokesman for AFSCME. "At issue in this case is whether an employer has an obligation to bargain over significant changes to terms and conditions of employment."
Robert Reiter Jr., president of the Chicago Federation of Labor, said through a spokesman that the ruling "defends the rights of workers to have a say in their workplace through collective bargaining. We are hopeful that the full board will uphold the decision of the [judge] and the City will not seek to file exceptions."
The CFL was involved in negotiations with the city.
The mayor's office said the ruling "was an erroneous decision that does not follow the law, facts, nor importantly, the science. We are currently reviewing the ruling and evaluating next steps."
The office would not discuss the case beyond its statement.
The ruling does not directly affect police officers, although the Fraternal Order of Police has its own case pending before the state board. FOP President John Catanzara led resistance to Lightfoot's vaccine mandate and likened it to the Holocaust — a move that drew condemnation from the Anti-Defamation League and ultimately an apology from the outspoken union boss.
On Thursday, Catanzara lauded the ruling as "a pretty resounding win for labor in this city and state."
He said there's "no reason" to continue pursuing the separate labor board case brought by the FOP, which he noted was bogged down by a "legal fight" stemming from an arbitrator's decision to uphold the city's mandate.
"Mayor-elect Brandon Johnson is championing union rights," Catanzara said in a Youtube video. "Well, this is his first true test. Are they going to challenge the labor board ruling? Or are they just going to accept it, move on and do the right thing on behalf of all union members in this city?"
In March 2022, Lightfoot insisted that only 16 police officers were on no-pay status for defying the vaccine mandate.
A key issue was the city's contention that the pandemic and the availability of vaccines required it to move quickly and impose new policies without unions' approval. According to Hamburg-Gal's ruling, the city disciplined workers for not reporting vaccination status by Oct. 15, 2021, and for not having the shots by Dec. 31, 2021.
In October 2021, "the pandemic had been in existence for well over a year and a vaccine had been available to the public for over 10 months under Emergency Use Authorization," Hamburg-Gal said in rejecting the city's argument that "exigent circumstances" allowed it to impose the rules.
"Multiple" employees, she said, were placed on non-paid status for missing those deadlines, and some were fired starting in August 2022, she said. "The Respondent thereby elected to pursue a far harsher approach than it had taken before against violators of its vaccination policy," Hamburg-Gal wrote.
The case affects union members working as carpenters, electricians, plumbers, laborers, operating engineers and other job categories.
The decision came Wednesday in a case before the Illinois Labor Relations Board involving more than 20 unions representing city employees, which filed an unfair labor practices charge with the state panel after Lightfoot imposed the policy in the fall of 2021.
A separate but similar matter involving the Fraternal Order of Police Lodge 7, the city's largest police union, remains pending.
In a 78-page decision in combined cases brought by the Coalition of Unionized Public Employees and the American Federation of State, County and Municipal Employees Council 31, Administrative Law Judge Anna Hamburg-Gal found that although the city had the right to implement a vaccine requirement for its employees, it was obligated to negotiate with the union over the effects of that policy.
The effects of the policy the city imposed included placing employees who didn't report their vaccination status or refused to be vaccinated without a proper exemption on "no-pay status" and later terminating their employment, both of which should have been negotiated with the unions until reaching an agreement or an impasse, the administrative judge found.
Docking pay "is not an inevitable consequence of the vaccine mandate or reporting requirement because no-pay status is not the sole means by which the (city) could have enforced its policy," Hamburg-Gal wrote.
An Illinois judge has ruled that Chicago city employees who were fired for refusing to get a COVID-19 vaccine must be reinstated and that the mandate be rescinded.
More than 20 unions representing city workers signed on to an unfair labor practices lawsuit with the state panel after outgoing Democratic Mayor Lori Lightfoot imposed the policy in 2021.
Administrative Law Judge Anna Hamburg-Gal said in a 78-page decision that while the city was within its right to implement a vaccine requirement for workers, it failed to negotiate with the union over the consequences, which included putting employees on a "no-pay status" and later terminating them completely. The city should have negotiated with the union until both sides reached an agreement or were at an impasse, Hamburg-Gal said.
She ordered Chicago to reinstate the employees who were punished and have their personnel records wiped clean and pay workers for lost pay with 7% interest.
Chicago Federation of Labor President Bob Reiter said in a statement that Wednesday's ruling "defends the rights of workers to have a say in their workplace through collective bargaining."
A spokesperson for the city said Lightfoot was "reviewing the ruling and evaluating next steps," the Chicago Tribune reported.
Lightfoot has less than 30 days left on the job. Democratic Mayor-elect Brandon Johnson, a former teacher and union organizer, will be sworn in on May 15.