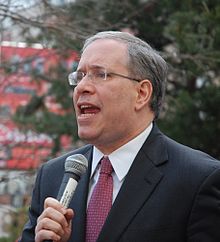 By Tara Bannow, Modern Healthcare, April 5, 2018NYC comptroller seeks more control at UHS, other companies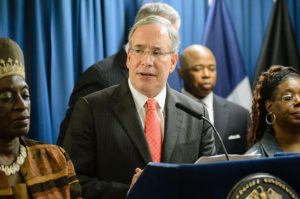 New York City's comptroller isn't giving up on his uphill battle to get proxy access to for-profit hospital chain Universal Health Services.
Scott Stringer is the custodian of about 136,000 UHS shares owned by five New York City public employee pension funds and retirement systems. For the third consecutive year, his office is calling upon fellow shareholders to vote for a change to the company's bylaws that would let certain outside shareholders with at least 3% ownership for at least three years nominate up to 25% of its board members.
"We believe proxy access is a fundamental shareholder right that will make directors more accountable and enhance shareholder value," Stringer wrote in his proposal.
The proposal is unlikely to pass, however, as it would need support from UHS CEO Alan Miller, who controls 83.6% of total voting power. UHS management is calling on its shareholders to reject the proposal, which it calls "counterproductive." Shareholders can vote on the proposal remotely or at the company's annual meeting at its King of Prussia, Pa., headquarters on May 16.
Stringer and the five funds—the New York City Employees' Retirement System, the New York City Fire Department Pension Fund, the New York City Teachers' Retirement System, the New York City Police Pension Fund and the New York City Board of Education Retirement System—launched their campaign, the Boardroom Accountability Project, in 2014. That year, the funds, which manage about $193 billion in assets, submitted proxy access proposals to 75 companies at once. The terms—shareholders with at least 3% ownership for three years can nominate up to one-quarter of board membership—were identical to a proxy access rule enacted by the Securities and Exchange Commission in 2010. That rule was later overturned by a federal appeals court.
At the end of last year, 3% of outstanding UHS shares constituted approximately $320 million worth of shares, according to the company. UHS shareholders are divided into classes, and Stringer's proposal would apply to Class B and D shareholders, who would nominate Class B and D directors. Currently, those classes elect two of UHS' seven directors, but they don't have a say over the contenders.
Despite success at large companies like Chevron, Hasbro, Staples and Priceline, Stringer's group has not made headway with UHS. The proposal garnered less than 10% of shareholder votes in 2016 and 2017, according to Stringer's website and UHS.
Two-thirds of the proposals the Boardroom Accountability Project submitted last year didn't go to votes, since the companies agreed to make the changes voluntarily, Stringer's office wrote in a 2017 post-season report. More than 440 U.S. companies have enacted meaningful proxy access, including more than 60% of the S&P 500, up from only six companies when the project was launched in 2014, according to the report.
In its response, UHS management wrote that despite the "significant publicity" proxy access has received in recent years, it has been implemented at a relatively small number of U.S. public companies.
UHS, which declined to comment for this story, wrote in a response to Stringer's proposal that proxy access is not in the company's best interests.
"The Board recommends that you vote against this proposal because it advances a solution for a problem that does not exist at our Company, does not take into account the effective voice our stockholders already have, undercuts the role of the independent Nominating and Governance Committee, and would introduce an unnecessary and potentially expensive and destabilizing dynamic into the Board election process," UHS wrote to shareholders.
Stockholders currently can communicate directly with any director, propose director nominees and submit proposals for consideration at annual meetings, UHS wrote. The company also does not have a "poison pill" limiting the amount of shares a group of stockholders can hold.
UHS also noted the U.S. Court of Appeals for the District of Columbia overturned the SEC's proxy access rule because the agency hadn't assessed the rule's economic effects, specifically the expense and distraction companies might face as a result.
For its part, the California Public Employees' Retirement System will vote in favor of proxy access at UHS, spokesman Mike Osborn wrote in an email. CalPERS owned about 346,000 UHS shares in 2016, the most recent publicly available number.
HCA Healthcare's board voted in December to allow proxy access to shareholders that have owned at least 3% of the company's stock for at least threeyears. They can nominate up to two directors or 20% of the board, whichever is greater.
Community Health Systems' shareholders, despite a recommendation to the contrary from the hospital chain's board, voted to adopt proxy access in 2016. The proposal was the second from Connecticut Treasurer Denise Nappier.
UHS wrote that since 2000, the company's shares have outperformed the S&P 500 Index by a margin of 5.2 to 1. A purchase of $1,000 worth of common stock in 2000 would now be worth about $13,600, compared with $2,560 for a $1,000 investment in the S&P 500 Index during the same period.
UHS' net income rose 7.1% to $752 million in 2017 compared with $702 million in the previous year. Net revenue increased 6.6% during that period, hitting $10.4 billion last year.
FOR IMMEDIATE RELEASE
Thursday, April 12, 2018
Banner Health Agrees to Pay Over $18 Million to Settle False Claims Act Allegations
https://www.justice.gov/opa/pr/banner-health-agrees-pay-over-18-million-settle-false-claims-act-allegations
Banner Health has agreed to pay the United States over $18 million to settle allegations that 12 of its hospitals in Arizona and Colorado knowingly submitted false claims to Medicare by admitting patients who could have been treated on a less costly outpatient basis, the Justice Department announced today.  Headquartered in Arizona, Banner Health owns and operates 28 acute-care hospitals in multiple states.
"Taxpayers should not bear the burden of inpatient services that patients do not need," said Acting Assistant Attorney General Chad A. Readler for the Justice Department's Civil Division.  "The Department will continue its efforts to stop abuses of the nation's health care resources and to ensure that patients receive the most appropriate care."
The settlement resolves allegations that 12 Banner Health hospitals knowingly overcharged Medicare patients unnecessarily.  In particular, the United States alleged that from Nov. 1, 2007 through Dec. 31, 2016, Banner Health billed Medicare for short-stay, inpatient procedures provided at the 12 hospitals that should have been billed on a less costly outpatient basis.  The settlement also resolves allegations that Banner Health inflated in reports to Medicare the number of hours for which patients received outpatient observation care during this time period.
"This enforcement action is another example of this office's commitment to protecting the Medicare program," said Elizabeth A. Strange, First Assistant United States Attorney for the District of Arizona.  "The United States Attorney's Office, working with our law enforcement partners, will continue to protect Medicare by aggressively pursuing False Claims Act allegations of wrongdoing in the health care industry."
Banner Health also entered into a corporate integrity agreement with the U.S. Department of Health and Human Services – Office of Inspector General (HHS-OIG) requiring the company to engage in significant compliance efforts over the next five years.  Under the agreement, Banner Health is required to retain an independent review organization to review the accuracy of the company's claims for services furnished to federal health care program beneficiaries.
"Hospitals that bill Medicare for more expensive services than are necessary will be held accountable," said Christian J. Schrank, Special Agent in Charge for the Office of Inspector General of the U.S. Department of Health and Human Services.  "Medical decisions should be made based on patients' conditions and needs, not on providers' profits."
This settlement resolves a lawsuit filed in the U.S. District Court for the District of Arizona by Cecilia Guardiola, a former employee of Banner Health, under the qui tam or whistleblower provisions of the False Claims Act, which permit private citizens to bring lawsuits on behalf of the United States and obtain a portion of the government's recovery.  Guardiola will receive roughly $3.3 million.  The case is captioned United States ex rel. Guardiola v. Banner Health and NCMC, Inc. No. 2:13-cv-02443.
The government's resolution of this matter illustrates the government's emphasis on combating health care fraud.  One of the most powerful tools in this effort is the False Claims Act.  Tips and complaints from all sources about potential fraud, waste, abuse, and mismanagement can be reported to the Department of Health and Human Services at 800-HHS-TIPS (800-447-8477).
The settlement was a result of a coordinated effort by the Civil Division, the U.S. Attorney's Office for the District of Arizona and the HHS-OIG.  The claims resolved by this settlement are allegations only and there has been no determination of liability.
Topic(s):
Health Care Fraud
Component(s):
Civil Division
USAO – Arizona