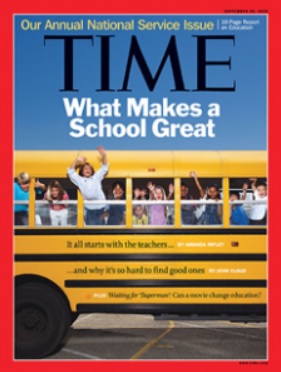 Due to the disarray of the teacher discipline hearings, as well as the lack of accountability inside the New York City Department of Education where good teachers are fined/suspended without pay/terminated often for no reason, or for a reason (no one can figure out which, so everyone charged with 3020-a is put into the ineligible/inquiry list or "problem code"), the end of tenure in New York City may be sooner than suspected.
I support tenure for teachers.
The tenure system was set up to protect teachers and staff from the vagaries of a maniacal Superintendent, Principal, Assistant Principal, or other people with malicious intent. But tenure is not employment protection for life. What tenure does is give teachers a chance to have a due process hearing where they can defend against lies or mistakes, while keeping their well-earned career, or not.
I am very aware of teachers and other staff who should not be getting paid yet who have not been terminated because the 3020-a disciplinary process is broken. The guilty party can be kept on salary while an innocent charged person can be terminated. A representative who does not know enough about UFT rules and/or DOE Regulations or who doesn't care to know or submit these guidelines to an arbitrator cannot make a proper defense of a charged employee, and the employee can be terminated despite his/her innocence.
So basically what I am saying is, keep tenure, but change 3020-a hearings to be more accurate in who needs to be terminated or not. INVESTIGATE thoroughly the charges!
See the case of Francesco Portelos, who should have been terminated, while other teachers are terminated for far less. The 3020-a hearings are a political mess. Take politics out of the mix, and give educators their rights back to present their cases before a neutral arbitrator. That's our final answer.
Editorial: Is Francesco Portelos a Danger to Tenure Law? by Betsy Combier
Francesco Portelos' Poison – Threats To Principals
The Criminal Mind of Lucio Celli
Betsy Combier
Editor, ADVOCATZ.com
Editor, ADVOCATZ
Editor, Parentadvocates.org
Editor, New York Court Corruption
Editor, NYC Rubber Room Reporter
Editor, NYC Public Voice
Editor, National Public Voice
Editor, Inside 3020-a Teacher Trials 
Good morning! We start today's coverage with a late-breaking story about a tenure lawsuit in New York State that has survived its third legal challenge, in a stinging defeat for New York City's teachers union.
On Wednesday afternoon, a New York appellate court unanimously ruled that Wright v. New York, a case brought by a group of parents arguing that teacher tenure laws and seniority-based job protections harm their children's education, should go forward.
From Edlawfaqs:
The Appellate Division, Second Department on an appeal from a ruling from the Staten Island Supreme has determined that an action can go forward that may test the constitutionality of the State's disciplinary system and layoff provisions for teachers.
Mymoena Davids aka Mona Davids supported by groups opposed to teacher tenure laws brought an action against the State alleging that ineffective teachers could not be properly dismissed and layoff provisions protected ineffective teachers causing irreversible harm to her teachers. (A similar action was brought in Albany County and joined with Ms. Davids case in Richmond County.)
Justice Philip Minardo of the Richmond County Supreme Court ruled that, on a motion to dismiss, the plaintiffs case could go forward despite a motion to dismiss based upon the changed statutory scheme and other arguments.
The Appellate Division affirmed. The appellate justices ruled, without much argument, that it was too early to dismiss the case as the plaintiffs' concerns could, if proven, make out a case that their constitutionally protected right of a sound basic education was jeopardized by the current statutory scheme. While not determining the ultimate issue that Appellate Court found that a trial court could determine that the tenure and layoff provisions for teachers interfered with this constitutional right.
Effort to Overturn New York's Teacher Tenure Laws Wins Unanimous Appeals Court Victory
The 74, March 28, 2018
Partnership for Educational Justice attorney Jay Lefkowitz speaks at a press conference at City Hall.
(Photo credit: Naomi Nix)
New York appellate court ruled unanimously Wednesday that a case brought by a group of parents arguing that teacher tenure laws and seniority-based job protections harm their children's education should go forward.
The decision dealt the state Education Department, New York City, and New York teachers unions a third defeat in their years-long attempt to have the high-profile lawsuit dismissed.
In a six-page ruling upholding a lower court decision, the four-judge panel rejected arguments that the parents lacked standing to bring the complaint, which alleges that provisions of state education law relating to teacher discipline and dismissal saddle children with ineffective teachers, depriving them of their right to a "sound, basic education" under the New York State Constitution.
The case, Wright v. New York, was originally filed in 2014 by nine parents, aided by lawyers from the advocacy group Partnership for Educational Justice. The organization has pursued similar legal challenges in New Jersey and Minnesota. The New York City Parents Union, a student advocacy group founded in 2011 by Mona Davids, is also involved in the case.
"Today's decision from the New York appeals court is an incredible victory for students' rights," said Alissa Bernstein, the partnership's executive director. "While the defendants have repeatedly tried to delay and dispose of this case, today's decision affirms the fact that the brave parents and children who brought this suit deserve their day in court. The fight for educational justice will continue so that we can give our students the education they are guaranteed under the state constitution."
Among the parent plaintiffs is Tauana Goins, whose daughter's teacher at Public School 106 — dubbed the notorious "School of No" because it had no books, art, or gym classes — allegedly bullied the girl and called her "a loser." The Queens mom said she tried unsuccessfully to have her daughter reassigned, but the child was given the same teacher for first, second and fifth grades.
"We're not anti-teacher," Goins told The 74 in 2015. "We just want effective teachers and we want tenure to be performanced-based."
The defendants, who include New York City's United Federation of Teachers, argued the lawsuit should be tossed out, particularly after the state reformed teacher job protections in 2015 — including mandating a time frame under which school boards had to decide whether to fire teachers consistently rated as ineffective, and increasing from three years to four the length of the probationary period leading up to tenure.
"We are disappointed in this procedural decision by an intermediate court. Judges around the nation have dismissed claims similar to those filed in the Davids-Wright case, and we are confident as the case goes forward that New York courts will ultimately recognize the importance to students and schools of reasonable due process for teachers," Adam Ross, the UFT's general counsel, said in a statement.
Jay Lefkowitz, the plaintiff's lead attorney, has said the revisions were minor and not enough to alter a system that leaves poor teachers in the classroom. State Supreme Court Justice Philip Minardo agreed in 2015, calling the changes "marginal" and "insufficient" as a reason for dismissal.
Lefkowitz said in a statement Wednesday that the plaintiffs were pleased the Appellate Court, Second Department affirmed Minardo's decision, deciding "to allow this lawsuit to proceed and has once again rejected the effort by the state, the city, and the teachers unions to stop this lawsuit."
"New York's constitution guarantees all children in the state a sound, basic education, and the current teacher employment statutes are simply failing our children by keeping ineffective teachers in our public schools," said Lefkowitz, a senior partner at Kirkland & Ellis. "This decision will finally allow us to get the evidence from the state that will vindicate the rights of parents and children across the state."
The plaintiffs intend to seek teacher personnel records to argue their case. Minardo had halted the discovery process while the case was before the Appellate Court. The defendants are expected to appeal to the full Appellate Court to review the panel's unanimous ruling.
Disclosure: Campbell Brown founded the Partnership for Educational Justice. She co-founded The 74 and sits on its board of directors. She played no part in the reporting or editing of this story. Walton Family Foundation provides financial support to PEJ and The 74.
Parents Cheer after Judge Denies Second Request to Dismiss New York Teacher Tenure Case
Convincing Arguments Made in Teacher 'Tenure' Appeal
NEA Today MARCH 1, 2016
What Teacher Tenure Is — And What It's Not
By Kevin Hart
, September 17, 2010
A recent Time magazine poll
 asked members of the public how they felt about teacher tenure. And, in the course of a 26-word question, Time managed to perpetuate three myths that educators say are contributing to the public's misunderstanding over what tenure is — and what it's not.Specifically, Time asked, "Do you support or oppose tenure for teachers, the practice of guaranteeing teachers lifetime job security after they have worked for a certain amount of time?"The problem is, tenure does not guarantee teachers a job, does not offer any lifetime employment security, and, regardless of the implication of Time's question, does not just happen after a "certain amount of time."
Educators participating in a recent discussion on NEA Today's Facebook page said that these three tenure myths are prevalent among the media and the general public, and are distractions in the debate on how to improve America's public schools.
The notion that tenure is a guaranteed job for life must have come as a shock for Lancaster, Calif., teacher Carolyn Heia Brown, who said that she received tenure and was laid off in the same month.
If you thought tenured teachers couldn't lose their jobs, you're not alone — it's a common misunderstanding, but that doesn't make it accurate. Tenure does not guarantee teachers a job, but instead mandates that due process be followed before tenured teachers are dismissed.
The reason is simple enough, said Alabama educator Shannon Keith Ginn, who calls tenure a "measure of protection against personal vendettas and personality conflicts."
After all, qualified, effective educators who are benefiting students and raising student achievement should not be removed from the classroom because of political disagreements with an administrator — or because the sibling of a local, influential figure wants a job.
And teachers who receive tenure often endure a marathon process before it is granted. At most jobs outside the field of education, a newly hired employee may be considered probationary for six months, or even a year.
When teachers are hired, it is common for them to serve as untenured, probationary employees for three or four years. At this point they can be — and often are — dismissed for any reason whatsoever. That time period also gives school administrators an extended opportunity to evaluate a teacher before determining whether or not the school district, at its discretion, should grant the teacher tenure.
"When explaining tenure, I first make sure to emphasize that tenure is earned, not just handed out to every teacher who walks through the door," said Illinois teacher Chris Janotta. "Where I work, for instance, a teacher becomes tenured after four probationary years. I explain that the administration has the power to let a teacher go for any reason during these four years. Period."
Much of the public debate over tenure has focused on whether it is possible to fire tenured teachers who are no longer making the grade. The fact is, contracts between unions and school districts in no way forbid the firing of tenured teachers.
Janotta said he has personally seen two tenured teachers with 20 years of experience let go because of performance issues.
"Did proper steps need to be taken before these teachers were terminated? Of course," he said. "Were these steps so overwhelming that administration decided it wasn't worth proceeding with them? Obviously not, or those teachers would still have their jobs."
Tenure is about due process — not about guaranteeing jobs for life. And it's not about protecting "bad" teachers — it's about protecting good teachers.
The typical tenure agreement lays out steps and documentation necessary for dismissing a tenured teacher. Many private corporations also have termination processes and documentation requirements that managers must follow before firing an employee.
Determining which teachers are making the grade depends on a thorough and rigorous evaluation process, and many teachers complain that the evaluation systems at their schools are not functioning. Teachers say they are not evaluated enough, the criteria are murky, and sometimes they receive conflicting evaluations from different administrators.
So why is there so much attention being paid to issues like tenure? Meg Gruber, a teacher from Virginia, believes the issue is largely being driven and pitched to the media by anti-union individuals and organizations. Kelle Stewart, an elementary school teacher from Tennessee, said the heavy focus on tenure keeps the education debate from focusing on real issues that significantly affect public schools.
"Tenure is a red herring that really has nothing at all to do with the problems our schools are facing," she said. "I think all the attention paid to tenure should be refocused on NCLB which is hurting us far more."