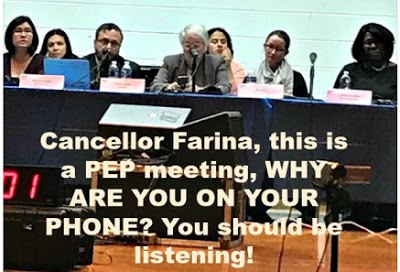 Schools Chancellor Carmen Fariña (at far left) was on hand at PS/MS 42 to share her vision for replacement
schools being proposed at the site. Photo by Ralph Mancini
The picture above shows a Carmen Farina who is not happy. We don't often get to see this side of her. But there it is. She called a meeting to discuss the closing of PS/MS 42 in Queens, and three people showed up. Everyone else boycotted the meeting. See the Superintendent's announcement:
This flyer certainly shows that Carmen is not listening to the protest. This letter even goes into appointing a new principal for the "new" school, as if it was going to happen.
This time, it's those pesky people who decided that PS/MS 42Q in Arverne, Queens should not be closed who caused Carmen's distress. See
After the February 8 joint meeting, the protest quickly gathered political support, parents, teachers, and students, in opposition to Carmen's ill-timed, inappropriate announcement that 14 schools would be closed.  Seconds after the flyers went out on this blog, facebook, and Ednotesonline, articles appeared in The Wave that the protest against the closing of  PS/MS 42 had been seen and the protest registered across the internet.
Suddenly, barely two days after Leroy Barr gave a rousing speech on February 13 at the school, along with other UFT top brass, Carmen's Department of Education issued a press release that called all parents  (and NO ONE ELSE) to a meeting at the school to discuss the lies that were being thrown out to the public about the pending closure. Parents boycotted this meeting, and thus Carmen was embarrassed to sit at a table with her two foot soldiers and maybe 3 other people. Thus the sour face in the picture at the top.
                                                                                                                  CARMEN FARINA
The Renewal Program is Carmen's mistake, and she had to "retire" because of it.
Despite Too Many Questions of Improprieties, Carmen Farina is Named Deputy Chancellor For the New York City DOE (7/14/2004)
Carmen Farina: Politics Wins With Her Appointment as Deputy Chancellor in New York City
(3/26/2004)
As I have written many times on this blog (hey – it's my blog), I have some experience working with Carmen Farina, the current Chancellor, when I was a parent at PS 6, and I have seen her autocratic leadership at work. She works on her wish list without consulting experts in the area or data to support what she wants. This is, in my opinion, a very bad mistake when you have $22-+ billion dollars to spend and more than a million lives at stake. I am actually very grateful to her for training me in Great Books, and allowing me to volunteer for an after school program as a teacher. Great Books is a wonderful program; and, I am also very grateful to her for agreeing to give me every monday the lunch period at PS 6 so I could discuss empathy and altruism with 4th and 5th graders who signed up for my lunch club. We had a wonderful time! We even created a business plan for a new product which I believe should be brought to market. (But I still wish Carmen would have allowed me to bring in service dogs, she would not allow it). That was then and this is now.
Do you know what the parents think about all this closing PS/M42 chatter? See here:
Arverne Protests PS 42 Closure At Queens Borough Hall
Concerned parents and faculty from PS 42 in Arverne gathered outside of Queens Borough Hall on Thursday to picket the closure of a school that the city has said was struggling.
More than 40 teachers and parents held signs and shouted "save  42" and "Farina's gotta go" to bring the public's attention to the matter. One parent told the Queens Tribune that the protest would be the first of many.
The school was one of 14 closures that the city announced in December, citing low-performance on citywide test scores, a failure to improve graduation rates and the lack of college readiness among students, despite capital investments to change their status. The closures would force more than 3,900 students to transfer to a new school at the start of the 2018 academic year, and more than 400 teachers would be out of work.
But according to United Federation of Teachers (UFT) Chapter Chairman John Krattinger, PS 42 was among the city's most improved.
"The [Department of Education] is completely out of line with this decision," he said. "We have shown progress over the last three years. Of the 20 kindergarten to eighth grade renewal schools, we're the only one with a 'good' rating. The other 19 have 'fair' ratings. And you're going to close us? No, I don't think so."
The UFT chairman also pointed out that suspensions during the school year have dropped considerably, with 32 incidents so far this year compared to 174 during the 2013 to 2014 school year when the renewal school program began. Teacher attendance at PS 42 has also been the highest among renewal schools at 97.3 percent.
Krattinger said that he and his colleague are scheduled to have a  meeting with Queens Borough President Melinda Katz next Wednesday. Other Queens elected officials – including state Senator James Sanders (D-South Ozone Park), Councilman Donovan Richards (D-Laurelton) and U.S. Rep. Gregory Meeks – have all gone on record in support of the efforts of frustrated parents in the hope of preventing the city from going through with the closure.
On Tuesday, there will be a joint hearing with the DOE and the community. Krattinger told the Queens Tribune that the community is ready to show out in full force.
"It's going to be a raucous time," Krattinger said. "They don't know what they're in for."
The Queens Tribune reached out the Katz's office for comment on the school closure, but did not receive a response on the matter.
PS/MS 42 MUST NOT BE CLOSED.
Betsy Combier
Editor, ADVOCATZ.com
Editor, ADVOCATZ BLOG
Editor, Parentadvocates.org
Editor, New York Court Corruption
Editor, NYC Rubber Room Reporter
Editor, NYC Public Voice
Editor, National Public Voice
Editor, Inside 3020-a Teacher Trials 
PS/MS 42 Reboot?
A variety of concerns regarding several aspects related to the potential replacement of PS/MS 42 were tackled at a last-minute hearing held Thursday, Feb. 15 in the school's cafeteria.
The Arverne site was one of a few stops outgoing Schools Chancellor Carmen Fariña made yesterday Feb. 15 in meeting with groups of teachers and parents in four of the five boroughs.
While at PS/MS 42, the Department of Education (DOE) leader spoke to a largely empty room with the exception of three parents, a handful of agency staff members and a spokesperson from Councilman Donovan Richards' office. [from the Editor: parents boycotted this meeting!]
She assured her miniscule crowd that no charter schools would be added to the current location if a proposal to shut down PS/MS 42 comes to fruition during an upcoming voting session on Feb. 28.
Fariña did confirm that separate elementary and middle schools would succeed the current K-8 institution with both having a heavy bent on technology.
Widespread trepidations about students being forced to attend schools on the mainland were also broached, as the guest speaker stated that parents would have "choice" in determining where their children would attend school in September.
On that note, it was noted that students from nearby MS 53 would also be welcomed to enroll at the new middle school if the Far Rockaway-based venue doesn't survive in two weeks.
"I'm assuming that most parents will choose to stay in the building. But it will have two schools, two principals…they will be autonomous schools with two separate budgets," reported Fariña.
The elementary school, she said, would be modeled after PS 62 in Richmond Hill and mentioned that the school's principal, Angela O'Dowd, would serve as a mentor to the new staff.
The middle school, on the other hand, would follow in the footsteps of MS 137 in Ozone Park.
An additional area of focus that Fariña touched on was the DOE's commitment to create more vibrant afterschool programs with the Rockaway YMCA on Beach 73rd Street being referenced as an ideal spot.
"One of the things I was telling my crew here is that The Y is underutilized. So, if any of you know why it's not being utilized particularly by our teenagers, let me know so we can do something about it."
In addition, Fariña communicated that additional space would be set aside at schools throughout District 27 to accommodate three year-olds in New York City Pre-K programs.
As for other reasons to morph the current K-8 setup into two different locations on the 488 Beach 66th Street footprint, the 74-year-old agency official explained that the city can't afford to sit and wait for the state to step in and "tell us what we have to do."
Fariña's 12-minute speech was followed by a Q&A session during which the chancellor's team of experts replied to issues including whether or not the incoming teachers would not only be qualified to succeed in their roles, but if they could also "relate" to the student population.
DOE representative Melissa Harris responded that an "exhaustive" round of interviews would take place. Earlier in the gathering, Fariña also maintained that all current PS/MS 42 teachers would be invited to reapply and that some would be afforded priority status.
Rhonda Williams was especially vocal about her worriment on whether performance levels would indeed surge as a result of new personnel and, quite possibly, a new curriculum.
Both Harris and District 27 Acting Superintendent Michael Dantona claimed that the DOE has garnered positive results in the past with these types of conversions.
New principals for the proposed schools may be announced in about a week, according to members of the DOE panel.