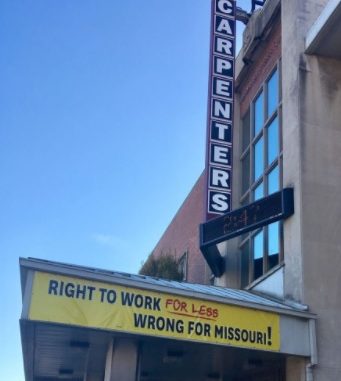 ST. LOUIS • A floorlayer from Edwardsville is waging a contentious legal battle against one of the region's largest labor alliances, accusing union officials of embezzling money from members to inflate their own pensions and cash in on travel perks for spouses.
Jonathan Gould, a former compliance officer for the St. Louis-Kansas City Carpenters' Regional Council, is suing his former union coalition in state court here to expose what he claims is a long-standing practice of stealing and squandering union dues.
"Union dues are being appropriated, stolen, embezzled and converted from the union coffers to inflate the pensions of Carpenters' officials without the consent of the union members," Gould said.
Gould claims the council has misspent thousands of dollars on "illegal" shop policies and millions in legal fees to preserve them. He says he also has sought whistleblower protection from the Illinois attorney general to end wasteful perks for council bosses.
The council, headquartered at 1401 Hampton Avenue in St. Louis, has denied Gould's allegations.
The legal fight is playing out in St. Louis Circuit Court while labor unions fight for survival in Missouri and 
to stop the new right-to-work law from taking effect
. A coalition of unions gathered enough signatures in August to delay the law's implementation in hopes of persuading voters to repeal it next year. The law approved in February says workers cannot be compelled to join or pay dues.
The lawsuit, set for trial in February, names as defendants seven union leaders and the entire Carpenters' council, which represents 34 locals with about 22,000 members in Kansas, Missouri and Illinois.
Lawyers for Gould, the council and its leaders declined to comment for this story.
The lawsuit stems from Gould's termination in August 2014 after he accepted a nomination to oppose longtime incumbent Terrence Nelson to run the council, court records say. Moments after Gould accepted the nomination, Nelson allegedly told Gould, "You just lost your (expletive) job."
Gould, who describes himself in court filings as "a strong union man," claims he was fired for exposing alleged fraud and theft in the run up to the council's board election in 2014. His lawsuit claims the council has inflated paychecks and pensions for years for 51 executives through an "illegal vehicle policy" and of misspending dues money on airfare for spouses and on alcohol purchases at labor conventions. Gould also accused several individual union leaders of defamation for allegedly saying he was "a liar," had "gone crazy," and suffered mental breakdowns. Gould claimed leaders launched a whisper campaign against him by saying he took "kickbacks" through a secret rebate program for contractors.
The council responded in pleadings that Gould was legally forced out because he had been serving an appointed position and lost the 2014 board election to Nelson. It also said its alleged defamatory statements were opinions, not facts, and if they did say them, they didn't know they were false at the time. Council lawyers also pointed to the National Labor Relations Board's dismissal of Gould's claim of unfair labor practices for lack of evidence.
Meanwhile, Nelson fired back against Gould with a countersuit accusing Gould of defaming him when he emailed a flooring company principal alleging illegal spending by Nelson and other council representatives.
Nelson retired as executive secretary-treasurer of the union in 2015; he was succeeded by Albert Bond Jr.
Victor Devinatz
Victor Devinatz
, a professor at Illinois State University and an expert on labor practices and history, said charges of union corruption are nothing new but might seem more hurtful to workers amid declining union membership across the country. According to the Bureau of Labor Statistics, Missouri saw a slight gain in union membership last year to just under 10 percent of the workforce, but that still falls below the national average. Illinois' union membership fell but remains above the national average of 10.7 percent.
"As union density goes down and resources become tighter, I think incidents of union corruption in some sense, hurt more," Devinatz said. "I think that corruption in unions is worse because it's the money of the members — the dues."
Legal squabbles over alleged union corruption, he said, could also hurt public perception of union membership as Missouri gears up for a political showdown next year over proposed changes in labor law.
"It certainly won't help," he said.
The council made headlines in 2010 over a dispute that fractured the relationship between the carpenters and organizations representing other building and construction trades. The dispute erupted after Nelson ordered the formation of a new local to represent electrical workers to compete with the International Brotherhood of Electrical Workers Local 1.
Unions are in a fight. (Editor Betsy Combier):
Unions move to block 'right to work' law in MissouriBy Kurt Erickson St. Louis Post-Dispatch Aug 18, 2017
LINK
JEFFERSON CITY • Missouri labor unions moved to block the state's new right to work law from going into effect, submitting on Friday more than 300,000 signatures calling for voters to weigh in on the measure.
In a blow to Gov. Eric Greitens and the Republican-controlled Legislature, the effort — pending a review of the petitions by Secretary of State Jay Ashcroft — leaves the pro-business initiative in limbo until the November 2018 election.
Prior to submitting the 310,567 signatures — more than triple what is required — a coalition of unions held a boisterous rally in the Capitol rotunda to celebrate their success in circulation the petitions.
"I think the people have spoken and they are not all union people. This is democracy in action," said Rep. Doug Beck, D-Affton, who is a union pipefitter.
Dennis Palmer, a union electrical contractor from Columbia, told the crowd that the object of the law is to lower wages.
"In Missouri, middle class jobs are disappearing. Right to work would further diminish these middle class jobs," Palmer said.
Under the law approved in February, workers cannot be compelled, as a condition of employment, to join or to pay dues to a labor union. It was scheduled to go into effect Aug. 28.
The unions were able to stop the law from being implemented by using a special referendum provision in state law. It hasn't been used since 1982, but when it has been, voters have repealed laws 24 of the 26 times they've been placed on the ballot since 1914.
Greitens, a political newcomer, has claimed the change as a signature achievement in his brief political career.
At a press briefing Thursday, before the petitions were submitted, Greitens said the right-to-work law has businesses taking notice that Missouri is "open for business again."
The Missouri Republican Party claimed that thousands of people are trying to withdraw their signatures after being mislead about the petition they were signing.
"Union bosses and Big Labor groups are being dishonest with Missourians about Right to Work, and as a result, we are seeing thousands of people rescind their signature from these anti-right to work petitions," party chairman Todd Graves said.
Both sides are expected to spend big dollars to convince voters to repeal the law or support it assuming that it is placed on the ballot in November 2018. A nonprofit formed to support Greitens has already contributed $100,000 to a political action committee that supports right to work.
Unions, too, are contributing five- and six-figure checks to the We Are Missouri coalition to support the repeal.
"Working families have to remain vigilant in the fight to protect workers' right to bargain collectively. Gov. Greitens should consider himself on notice when it comes to unions and protecting the middle class. The fight has only just begun," said Philip Gruber, general vice president of the Machinists' Midwest territory.
The union represents 12,000 Missourians at factories including Boeing, Harley-Davidson and Honeywell.