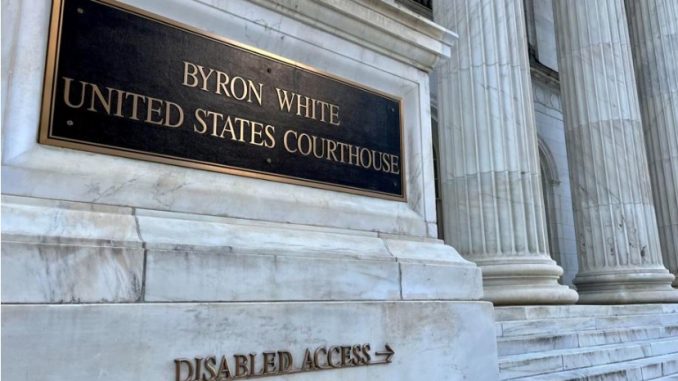 The U.S. Supreme Court ruled that Evangelical Christian web designer Lorie Smith has a free speech right under the First Amendment to decline to endorse same-sex marriages.
The federal appeals court based in Denver issued a brief order on Thursday returning the case of Christian web designer Lorie Smith to a trial judge, two months after the nation's highest court sided with her and narrowed the scope of Colorado's anti-discrimination law.
In 303 Creative v. Elenis, Smith sought an injunction to prevent the state from requiring her to create wedding websites featuring same-sex couples if she went into the business of designing wedding websites commercially, as she intended to do. Smith argued her religious views did not condone same-sex marriage.
A trial judge initially ruled against her and in 2021, the U.S. Court of Appeals for the 10th Circuit agreed that Colorado could compel Smith to create websites for same-sex couples through its anti-discrimination law, which forbids businesses open to the public from discriminating on the basis of sexual orientation.
In June, the conservative-majority U.S. Supreme Court reversed that decision by 6-3, recognizing Colorado could not infringe upon Smith's First Amendment rights by forcing her to "speak" in violation of her beliefs.
Following the Supreme Court's action, the case returned to the 10th Circuit. The three-judge panel that originally decided the case — Democratic appointees Mary Beck Briscoe and Michael R. Murphy, plus Republican appointee Timothy M. Tymkovich — issued a six-sentence order transmitting the matter to the trial court to resolve Smith's case and her request for an injunction according to the justices' directive.
U.S. District Court Senior Judge Marcia S. Krieger, a George W. Bush appointee who originally heard the case, is no longer presiding at the trial level. Charlotte N. Sweeney, a Joe Biden appointee, is now assigned to the proceedings.
The case is 303 Creative et al. v. Elenis et al.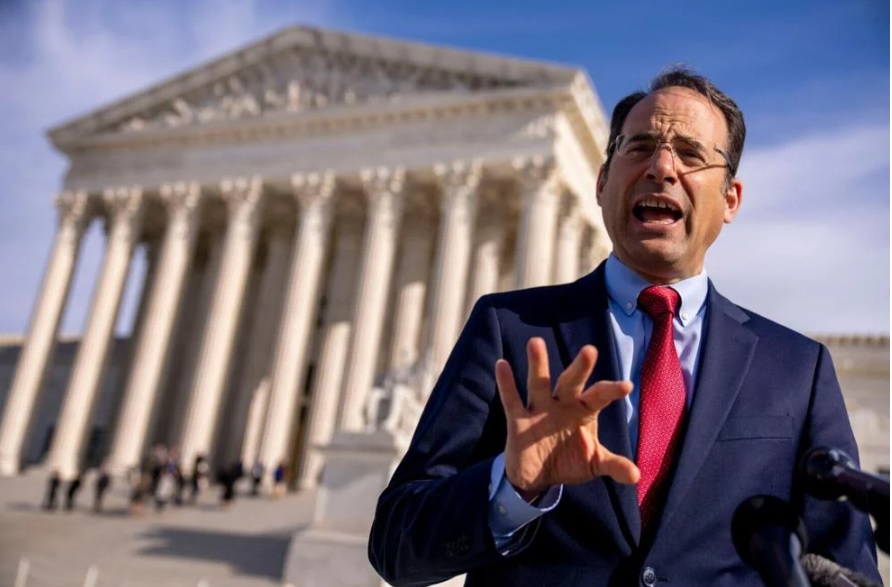 Colorado Attorney General Phil Weiser (above) walks out of the Supreme Court in Washington, Monday, Dec. 5, 2022, after the Court heard the case 303 Creative LLC v. Elenis. The Supreme Court is hearing the case of a Christian graphic artist who objects to designing wedding websites for gay couples, that's the latest clash of religion and gay rights to land at the highest court. (AP Photo/Andrew Harnik)
'I have deep reservations about making exceptions for select industries,' said Rep. Stephanie Vigil
The majority opinion in 303 Creative v. Elenis borrowed from Judge Timothy Tymkovich's 2021 dissent, but not the most provocative portions
When the U.S. Supreme Court's conservative majority opened the door for certain businesses to deny service for reasons related to sexual orientation, Justice Neil M. Gorsuch repeatedly turned to the words of his friend and former appellate colleague, Timothy M. Tymkovich.
Tymkovich, who sat on the three-judge panel that first decided 303 Creative v. Elenis in 2021, was the lone member who believed Colorado could not compel plaintiff Lorie Smith to design wedding websites depicting same-sex couples in violation of her Christian beliefs.
His uncharacteristically strident dissent called portions of Colorado's Anti-Discrimination Act "Orwellian," accused the state of "dictating" people's speech and warned of a slippery slope toward "authoritarianism."
While the Supreme Court's majority opinion largely omitted the most fiery rhetoric, Tymkovich's imprint on the case — and his views on the danger of government-compelled speech — was clear.
"In a world like that, as Chief Judge Tymkovich highlighted, governments could force 'an unwilling Muslim movie director to make a film with a Zionist message,'" Gorsuch wrote, or "they could compel 'an atheist muralist to accept a commission celebrating Evangelical zeal.'"
It is common, said LGBTQ rights attorney John M. McHugh, for the Supreme Court to cite from a dissenting judge's opinion when reversing a decision.
"As far as tone," he continued, "I think Tymkovich's dissent and the majority opinion here take very different tones about what Colorado is doing and what anti-discrimination laws are permitted to do."
"Gorsuch's opinion wasn't as provocative, but it came out about the same way," agreed Christopher M. Jackson, an appellate attorney. "I think the biggest way we saw Judge Tymkovich's influence was on how the case was litigated (and ultimately decided) at the Supreme Court."
Tymkovich and Gorsuch were both George W. Bush appointees from Colorado to the U.S. Court of Appeals for the 10th Circuit. Gorsuch left for the nation's highest court in 2017, the result of U.S. Senate Republicans refusing to fill a vacancy during the final year of the Obama administration. Tymkovich was Colorado's solicitor general early in his career, where he defended before the Supreme Court Amendment 2, the voter-approved constitutional amendment that made it illegal for governments to enact LGBTQ protections.
As the chief circuit judge at the time 303 Creative landed at the appellate court, Tymkovich was the Republican appointee on a panel with two judges who joined during the Clinton administration. While the majority believed Colorado's anti-discrimination law was narrowly drawn to advance an important government interest, Tymkovich blasted the notion that a web designer could be compelled to create a message in violation of her beliefs.
"It seems we have moved from 'live and let live' to 'you can't say that,'" he wrote. "To paraphrase Orwell, liberty must mean the right to tell others — especially the government — what it does not want to hear."
Igor Raykin, an attorney who litigates cases against school districts in federal court, said that even if Tymkovich has a reputation as a conservative, Raykin did not view the dissent as ideological.
"My guess is that Tymkovich's dissent was influential to the Supreme Court, but still very limited in its influence," he said. "The six conservative members of this court have very clear beliefs as to where they stand on religious questions. This court as it's currently constituted has come down in favor of religion in every case that it's reviewed. That was never going to change regardless of whether Tymkovich wrote a dissent or not."
David Lane, a civil rights attorney, added that Tymkovich's presence throughout Gorsuch's opinion amounted simply to "a shout out to his buddy."
However, Jackson suggested Tymkovich's detailed rebuttal of the idea that Colorado's law was "narrowly tailored" might have affected the parties' focus in the Supreme Court, if not the ultimate outcome.
An aide to Tymkovich said the judge was unable to provide a statement.
Betsy Combier
betsy@advocatz.com