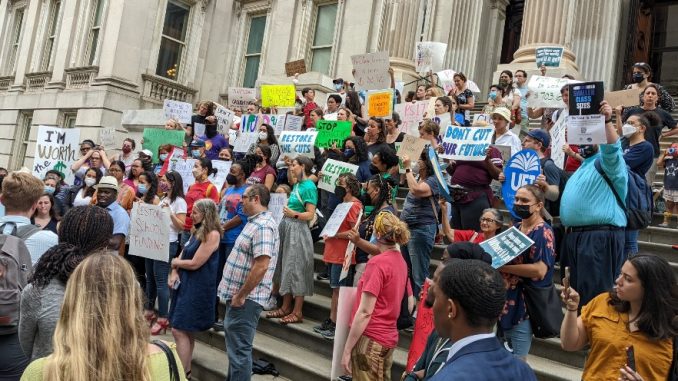 NYC Mayor Eric Adams is deaf to those who disagree with him. There are way too many events to bring up here, so let's look at what happened on Monday, July 11, 2022, at the Police Athletic League meeting. Guards removed protesters. Adams called them "clowns".  (see picture below)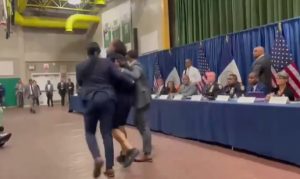 Parents and employees of the NYC Department of Education are distressed over the cuts to school funding that Adams has said are necessary due to the many students who are not returning in September, some say 30,000 or more. Both sides have truth to their argument. The problem is, no one on either side is negotiating a compromise.
Basically, it is a no-brainer that since so many students and educators will not be back in September, funding has to be reduced, or at least school budgets have to be reviewed. Maybe Principals could each get a little less in their paychecks? Maybe Mayor Adams could offer to reduce his discretionary spending, and maybe donate some of his salary to the kids?
Yeah, you are right. I'm joking.
But the joke is really on all of New York City, and his name is Eric Adams. 
Remember, in the last couple of months the Mayor fired 914 employees of the Department who did not get the COVID vaccine and could not justify their reason (i.e. medical issues or religious beliefs). However, looking closely at the appeals of the denials of the exemptions, anyone can see violations of Constitutional Laws and rights cited in the First and Fourteenth Amendments.
It seems that Mayor Adams does not see what we see.
And then we hear that the NYC DOE sent 55 employees to a swanky hotel in Orlando, Florida for a few days. Why? Because NYC has no one who can teach STEM to anyone.
Just kidding.
All funniness put aside, Mayor Adams has many years left to rule on where resources go and how they are allocated. He has lost the public trust so quickly, I just don't see a happy medium occurring anytime soon.
 Betsy Combier
by Cayla Bamberger, NY POST, July 12, 2022
Mayor Eric Adams was confronted Monday night by a group of Upper Manhattan protesters denouncing controversial cuts to local schools.
"See, this is the clown, this is the clown," said Adams. "And this is what we're up against — people want to spend time being disruptive, that's what people want to do. But we got to stay focused, and not get distracted."
"Because people want to spend time on what they disagree on, and not spend time what they agree on," he added.
The protesters were immediately escorted out of the Police Athletic League, where Adams was to hold a discussion on public safety with members of his administration and local residents.
"So all that noise, that's what folks don't understand," said Adams. "Because you are the loudest does not mean you are saying something."
Close to 1,200 schools are seeing cuts to the primary source of their individual budgets through the Fair Student Funding formula, according to a New York City Comptroller analysis.
"The mayor and the Chancellor and many others had been really trying to gaslight the city for weeks, really trying to justify or pretend like these are these are good budget cuts," said Matt Gonzales, one of the protesters who was escorted out. "So we really needed to come here to demand an answer in public, right in front of him."
"They basically threw me out here and they started getting in my face, trying to shame me, reprimand me for using my constitutional right to demand a response from the mayor," Gonzales said.
The slashed budgets — originally forecasted to total $215 million but now appear to be deeper as the city anticipates further enrollment drops — have already led to lost programs, and teachers and school staff.
Another protestor who was escorted out, Shoshana Brown, told The Post she was a social worker at Essex Street Academy on the Lower East Side until she was let go by her school on the first day of summer break because of fewer funds.
"I didn't even get a chance to say goodbye to my students because it came after summer already started," Brown said.
"I'm sad because I have students that I've worked really, really hard for," she said. "Not only am I not going to be able to see them graduate — I'm scared that they're not going to graduate because they're not gonna have that support, and I was the only person in the school that they were really connected to."
At several city forums, including last month's Panel for Educational Policy and a City Council budget oversight hearing, parents, teachers and advocates have flooded public comment to decry the cuts. Council members, too, later pushed back against the reductions after hearing from their constituents.
Adams, who acknowledged that the "overwhelming number of questions" at the forum were related to youth and schools, continued to attribute the shrunken budgets to drastic enrollment declines within the Department of Education.
"People have hijacked the conversation," Adams said.
*******************************************************************
For immediate release: July 18, 2022
Contact: Leonie Haimson: 917-435-9329; leoniehaimson@gmail.com;
Laura D. Barbieri 914-819-3387; Lbarbieri@advocatesny.com
NYC Parents And Teachers File Lawsuit Today Against Mayor Adams' Savage Cuts To School Budgets
 Four NYC parents and teachers filed a lawsuit today in NY Supreme Court, asking for a temporary restraining order to halt the severe budget cuts to their public schools planned for next year, which will otherwise cause class sizes to increase and students to lose valuable programs and services.
As the lawsuit points out, New York State Education Law clearly specifies a mandated process by which the NYC Board of Education (also known as the Panel for Educational Policy) must vote to approve the education budget prior to the City Council vote; but in this case, the City Council voted to adopt the budget on June 13, ten days before the Board voted on June 23, 2022. The lawsuit asks for a revote of the City Council in order to ensure the legally-required process occurs, and that the Council has the opportunity to reconsider its vote based on the testimony of nearly 70 parents and teachers who spoke out at the Board of Education meeting, detailing the profoundly damaging impact of these cuts on their schools.
Instead of following the legally mandated procedure outlined in state law, the Chancellor instead issued an "Emergency Declaration" on May 31 to adopt the budget without any Board vote, though no real emergency existed, using boilerplate language. At the Board meeting on June 23, the Chancellor erroneously declared their vote meaningless because the Council had already adopted the budget. Yet in fact, in twelve out of the last thirteen years, different NYC Schools Chancellors have invoked such "emergencies" when typically none existed, in order to adopt a budget prior to a vote of the Board of Education, thereby disempowering the Board and eradicating its essential authority under state law to approve education budgets.
In addition, State law also requires that the Board vote on a budget in which the expenses of the Community School District Councils are delineated separately from the expenses of the City Board, which did not occur either.
The plaintiffs include Melanie Kottler, a parent with a rising 2nd grader at PS 169 in Sunset Park, a school with a large number of students with special needs and English Language Learners, which as of July 14, will have its Galaxy budget reduced by millions of dollars compared to this year. Melanie deplored the fact that the school will be forced to lose classroom teachers and thus increase class size as a result: "The 2021-22 school year was incredibly challenging for teachers at our school. Not only were they working tirelessly to try to catch students up from learning loss the year before, but some teachers also faced students who had never even stepped foot in a school building. COVID is not over, and nor are these challenges. I'm afraid that larger class sizes will only make things more difficult for PS 169 students and teachers."
Another plaintiff is Sarah Brooks, a special education/ICT teacher at PS 169, who reported that the school will lose paraprofessionals, afterschool programming, school trips, and possibly their school counselor as well, damaging the quality of education for all students, but particularly those with special needs: "The budget cuts will cause all the students at PS 169 to suffer. They will lose out on specialized instruction, mental and academic supports, and the vital opportunity to learn outside of the confines of their own neighborhoods. The Special Education program will be markedly and significantly impaired. Our students deserve more from their schools."
Plaintiff Tamara Tucker is a parent of two children at PS 125 in Harlem, a high-poverty school which is facing the loss of its arts programs and an increase in class sizes due to cuts of hundreds of thousands of dollars. She said, "Everyone at PS 125 has already been stretched so thin, and this will only become worse in light of the budget cuts for this upcoming year. The students are going to be the ones who will bear the brunt of this poor decision. The formula that is used to calculate school budgets is fundamentally broken and does not account for the actual needs of schools. It is not fair and is not benefiting students in any way. Every child should have art, music, and enrichment classes. These subjects are part of a well-rounded education and bring joy and diverse perspectives to children of all ages."
Plaintiff Paul Trust is a music teacher who has worked at his school since 2005, PS 39 in Brooklyn, but now has been excessed. His school is losing its entire music program because of more than a half million dollars in cuts. He said, "My students thrive and are empowered through music. Many continue to pursue their passion in middle school and beyond. I have students who have gone on to the finest conservatories and those who have formed the loudest of rock bands. All this will go away with these budget cuts. Neither the Mayor nor the Chancellor seem to be concerned with the irreparable harm these draconian cuts may cause our students. I can only hope that this will not be the last year I am able to continue to serve the school community I love."
According to Leonie Haimson, Executive Director of Class Size Matters, "We have interviewed parents, teachers, and principals who told us that the smaller classes in their schools this past school year have been essential in allowing them to reconnect with their students and help them begin to recover from the disrupted learning and disengagement from the school closures and remote learning that occurred during the height of the pandemic. These children will have the rug pulled from under them if these cuts are enacted, and much of the progress they have gained will be lost, in the anonymity of excessive class sizes where their teachers will be unable to give them the academic and social-emotional support they so desperately need."
Laura D. Barbieri, Special Counsel for Advocates for Justice, stated: "The explicit language of State law requires that these egregious budget cuts be halted and reconsidered by the Mayor and the Council, because the law was not followed. The State Legislature enacted an explicit budget review and voting process by the Board of Education that was eviscerated by the Chancellor's abuse of authority. No emergency justified the Chancellor's ignoring the proper procedure."
Budget cut lawsuit papers 7.18.22
Here are the legal papers associated with the lawsuit filed on July 18, 2022 to request a restraining order against the budget cuts to schools and for the City Council to have an opportunity to revote on the education budget.
Memo of Law (to come).