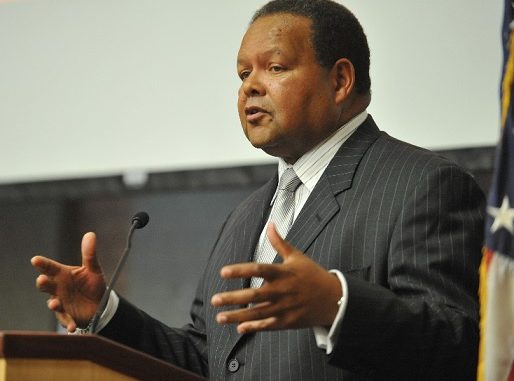 In the timeless article published in the New York Times on August 31, 1997, below, 
Rudy Crew
tries to make the
New York City Board of Education
"good for every child…….The New York City schools enroll more than one million students — by far the most of any system in the country — and Crew is ultimately responsible for their overall performance. But most parents are concerned only with how their children are doing in their neighborhood schools. One of Crew's biggest challenges as chancellor has been negotiating between the aggregate and the anecdotal — or in more human terms, between the system's needs and Terence's."
An impossibility, as we can see today, with the gap between the rich and poor, white and black, general ed and special education kids.
Maybe New York City and its 5 buroughs are just too large to govern with a single Chancellor, or Mayor (we are under mayoral control).
Just sayin'.
Betsy Combier
betsy@advocatz.com
ADVOCATZ.com
Rudy Crew
The Stealth Chancellor
Editor's Note Appended
On a Tuesday afternoon in April, in a dingy conference room on the 10th floor of the office building of New York's central Board of Education, Rudy Crew, the city's schools chancellor, sat at a dark wood table with two dozen parents and community activists to discuss, among other things, the trouble with Terence. The child, a student at P.S. 329 in Coney Island, was supposed to be in the third grade, but the school had pulled him from his class midyear and, without his family's consent, put him in a "nongrade" section, where he would be exempt from the citywide reading tests in May. Terence's aunt, who felt that the class was little more than a dumping ground, was extremely upset. The assembled adults, all poor blacks and Latinos who lived within the otherwise white, middle-class district, had reason for cynicism: for decades, their children's schools, which served the neighborhood's towering housing projects, had been among the worst in the district.
The New York City schools enroll more than one million students — by far the most of any system in the country — and Crew is ultimately responsible for their overall performance. But most parents are concerned only with how their children are doing in their neighborhood schools. One of Crew's biggest challenges as chancellor has been negotiating between the aggregate and the anecdotal — or in more human terms, between the system's needs and Terence's.
The boy's troubles were intimately tied to Crew's broader school reforms — chiefly, his highly publicized campaign to have all students reading at grade level by the end of the third grade (a feat currently accomplished by less than half of the city's third graders). In the past, such a call would have been only that: a plea that district superintendents would have been free to ignore. But because of historic legislation that Crew quietly helped to push through the State Assembly four months earlier, the city's 32 community school districts now have to jump when Crew gives an order.
The evening of the meeting, Crew learned that the law had received the blessing of the justice department in a much-anticipated ruling. When the news officially broke, he was racing over the Brooklyn Bridge in his chauffeured black Chevrolet. He asked his driver to turn up the radio, stuck his head out the window and repeatedly shouted, "Victory to the children."
Listening to the parents' concerns, Crew was sympathetic, but he also bluntly informed them that many of their children were probably lagging significantly behind their more privileged classmates. And he challenged them to consider how a school — and a system — should respond to such children.
"Let me separate out a few things here," Crew said. While he acknowledged that removing Terence from his classroom "without any dialogue with the home" was "highly irregular" and "unforgivably wrong," he added: "There are some kids whom we should not be moving on, whom we ought to be helping by causing them and their parents to work at home, by having after-school programs, by having Saturday academies and mandatory summer school, by having literacy-school volunteers, by having an extended day and an extended year, so that they can catch up with some of their counterparts. I'm not going to lower the standard, but I am going to try to provide the means for your children to reach it."
In other words, as Anthony Alvarado, a former chancellor and one of the city's district superintendents, says, Crew is trying "to move public education from an aptitude-based system to an effort-based one." By the end of the session, the parents were applauding loudly.
Crew has been something of a stealth Chancellor. When he arrived in New York in November 1995 from Tacoma, Wash., where he was a popular superintendent, few expected that he would have much impact on a system that has nearly twice as many teachers — some 65,000 — as Tacoma has students.
At 46, he has a face and physique as broad as Muhammad Ali's and a fighting style not unlike the boxing champion's: Crew has floated like a butterfly and stung like a bee. In his first year and a half on the job, he studied the system and searched for weaknesses. Then last fall he delivered a series of reforms like so many punches. First, he took over several chronically failing schools and placed them in what he called "the chancellor's district," where he sent teams of educators to work with existing staffs to help turn around their educational programs. Next, he implemented his major literacy campaign. After that, he released budget report cards on every school in the city, which gave parents a wealth of information, for the first time, about their children's schools: how much money they had and how it was spent in addition to the usual information, like average test scores and attendance. Then Crew provided a detailed budget for the Board of Education and, in the process, proved that central headquarters was no longer the money sinkhole that many critics had claimed. Previous chancellors could not even tell how many people were on the payroll.
After that, Crew unveiled a plan to overhaul the city's byzantine special-education program and announced that he was finding funds to restore arts education to all schools. In December, he announced that New York would be the first urban system in the country to adopt citywide the New National Standards, a core curriculum designed by a nonpartisan, nonprofit group in Washington. Then, in the knockout punch, the state legislature passed the governance law, which reversed some 30 years of educational practice in the city by making district superintendents directly accountable to the Chancellor. The schools hadn't even let out for Christmas.
Suddenly, Crew was the city's most politically successful chancellor in a quarter-century and the country's most important urban educator. Guy Molinari, the Staten Island Borough President, says he would back Crew for Mayor in 2001. (Crew denies having such ambitions.) Depending on the poll, anywhere from 53 to 62 percent of New Yorkers approve of the job he is doing — extraordinary numbers for the head of a school system that a majority of people regard as failing. Because of this popularity, Crew has emerged as a pivotal player in this year's mayoral election. When Ruth Messinger, the leading Democratic candidate, tried to distance herself from Crew in an obvious attempt to criticize Mayor Giuliani's education record, she found herself under attack. (She did not return repeated phone calls requesting an interview for this article.) Giuliani, who is not exactly renowned for his eagerness to share the political limelight, immediately brought out a radio advertisement in which he tells a mother who thanks him for "fighting back to save our schools" that she should thank "another Rudy, Schools Chancellor Rudy Crew." Instead of just tinkering around the edges, Crew has left the impression that he is taking on the entire system.
Creating one or even a dozen good schools has never been difficult. "Most urban systems," Crew says, "have demonstrated the capacity to reform single schools in individual communities." As a nation, we are not exactly smarting for educational models: we have "alternative" public schools and charter schools and "choice" schools and for-profit schools and home schools that have all succeeded in every kind of community, using every kind of approach. Taken together, they support any one of a number of contradictory conclusions about school reform.
But in any particular system, these models have never been able to achieve a critical mass. For instance, the charter-school movement, although almost a decade old, has created only 700 public schools out of 85,000 nationwide. Since 1992, the Edison Project, a for-profit outfit, has reportedly raised $100 million to set up just 25 schools and has yet to turn a profit. In Milwaukee, where a voucher system has become the latest reform du jour, the pilot program accommodates only 1.5 percent of the student population. "Those who would welcome the abolition of the current system," Crew says, "have never demonstrated an ability to bring in its place a system that works on the massive scale that the public schools do now."
The challenge for urban educators isn't building more pilot programs, but finding a way to replicate — or in education parlance, to "scale up" — select reforms to create an entire system that works. "The real issue," Crew says, "is not some points-of-light theory in which I create five schools and go out and show them to everybody and say, 'Look at what I'm doing here in New York City!' The real question for urban America is, Can you replicate it, can you do it in a cost-effective way and can you create the organizational culture that gives rise to it on a scale that impacts the lives of every child in the system?"
It is worth pointing out that no one in the history of American education has ever succeeded in fashioning a big-city school system that works for all children. The belief that there was once a golden age in public education is as prevalent as it is false. As Ramon Cortines, Crew's predecessor as Chancellor, puts it: "Schools didn't even track dropout rates until the early 1960's. We are attempting to care about students that we have never cared about before."
While a vast majority of parents are perfectly content with their children's schools, the dismal performance of a handful of urban districts has undermined the nation's faith in the system as a whole. Consequently, whether Crew can succeed at scaling up his reforms may well determine the fate of public education in the next century.
"We don't have a lot of time," Crew says, "which is why I feel this incredible urgency. I think we have 10 years, tops, to turn the system around before the public gets fed up and begins to replace it with something else." Richard Elmore, a professor of education at Harvard, is even more dire. In places like Chicago and Boston and Los Angeles and D.C., he says, "the system could well migrate out from under us within the next five years." In short, the country's message to educators like Crew is a little like Rhoda's to New York in her television sitcom: "Public education, this is your last chance."
Politically treacherous and almost incomprehensibly huge, the New York City public school system has defeated half a dozen chancellors in just the last decade. Outside Crew's office at the Board of Education, a 12-story, Depression-era building in downtown Brooklyn, there is a harrowingly long hallway lined with black-and-white photographs of Crew's predecessors: Cortines, who was ousted by Giuliani; Joseph Fernandez, who was fired by his own board; Richard Green, who died after only 14 months on the job; Nathan Quinones, who was forced to retire early, and so on, back to the turn of the century. Once, when I was riding around with Crew, his wife, Kathleen, who is a student readmission officer at John Jay College, called to ask how his day was going. Crew replied dryly, "They haven't fired me yet."
Nationally, the average tenure of the head of a big-city school system is three years. "Imagine if you were a major corporation and had that kind of turnover," says William Thompson, the president of the seven-member board that is officially Crew's boss. As Richard Mills, the State Commissioner of Education puts it, "We can't afford to have Rudy Crew end up on that wall!"
Before Crew was hired, the city had been buffeted by a series of fiscal crises that forced cuts of more than $1 billion from the Board of Education's projected spendings. Several of the city's worst-performing districts had been plagued for years by political patronage and corruption: auctioning off principalships, voter fraud, drug dealing, embezzlement. Only 5 percent of eligible voters typically bothered to turn out for school-board elections.
A protracted and acrimonious debate over condom distribution and multicultural curriculums had distracted the city from the far more pressing issues facing most teachers and students in their classrooms. Giuliani seemed to take an almost visceral dislike to Cortines, and soon the two were embroiled in an ugly battle over who should control the system. "Most people thought that the Mayor was being very unfair to Ray," says Sandra Feldman, the president of the American Federation of Teachers. "Yet simply having that kind of conflict — the constant sniping, board members at each other's throats — was itself a big problem."
Crew's obvious and unexpected ease with the Mayor has been both a blessing and a burden — which was evident on the morning of April 1. As Crew was shaving in his Brooklyn Heights brownstone, he received an urgent call from Burt Sacks, the executive for community school district affairs at the board. "He was whispering on the phone!" Crew later recalled. "He was saying: 'The Mayor's advance people are here! The Mayor's not supposed to be here! You better get down here — quick!' "
As an April Fools' joke, Crew and Giuliani had decided to swap places at their morning cabinet meetings. A few hours later, Crew was sitting in the Mayor's office, his feet propped up on Giuliani's desk, and was giggling like a mischievous choirboy as he twirled a fat cigar he had swiped from the Mayor's private stockpile.
Back at the board, the "other Rudy," as educators in the city like to call the Mayor, was scaring the wits out of half of Crew's staff. Giuliani later described the scene: "I told everyone not to worry, that the police were not surrounding the building. I think they were a little relieved when I said that." When Crew returned to the board, the Mayor was still there, and as he re-enacted the moment of dropped jaws and shocked faces, the two men fell on each other in fits of laughter.
Not everyone was amused. A couple of board members complained that the Chancellor was appearing too cozy with Giuliani in an election year. The friendship between the Rudys has helped to inoculate the Mayor against charges that he has neglected the city's schools and has even led some educators to doubt Crew's abilities and motives.
Crew denies that he's carrying political water for the Mayor. "Giuliani and I disagree on a lot of issues," he says. Crew has strenuously opposed, for instance, the Mayor's efforts to turn school security over to the police. (The board employs its own division of unarmed guards.) And he has refused to cooperate with the Mayor's pet plan to send 1,000 of the city's students to parochial schools. (Giuliani has had to raise private funds for his program.)
But Crew defends his relationship with City Hall. "I believe the Mayor's interest in this system is real," he says, "and that his support of me is real." Giuliani controls the budget, and it's important, Crew says, that he spend time at the board to see how it operates. As Alvarado puts it: "Rudy Crew has been extraordinarily successful politically. He has managed to win some trust and respect for the system as something that is worth investing in." About the April Fools' joke, Giuliani later confessed, "I had never been to a staff meeting at the board, and after the joking and kidding around, I listened to what Crew's team was doing and trying to achieve, and I have to tell you, I was impressed."
Asked how he would respond to the prank's critics, Crew replies wearily, "I would tell them, 'It was a joke.' "
Crew's typical day begins, or ends, depending on how you look at it, around 3 in the morning. Crew is a chronic insomniac, and although he tries to go to sleep as soon as he gets home each night around 9 or 10, he has a hard time staying asleep and is frequently up again, prowling about in the wee hours or calling family members out West. (Crew has four children from an earlier marriage and is still close with them and their mother.) He is usually back at the board at 7 A.M., where his first official act is, sensibly, making coffee.
Like many former Northwesterners, Crew is a coffee snob. He brings in his own ground beans and makes a large pot for the office. He then puts on some music: Coltrane or Rollins or Wynton Marsalis. Crew's father was a clarinet player who once toured briefly with Duke Ellington. Crew grew up in Poughkeepsie and as a child often accompanied his father to jazz clubs in Harlem. For years, his father, who died in 1980, also worked as a night security guard at I.B.M. and his photo ID card and badge hang over Crew's desk.
Crew's mother died when he was 2. To help make ends meet, his father rented out the top two floors of the family row house. Crew attended a Catholic elementary school and public junior high and high school. "My father was a stern taskmaster," Crew recalls. Like his father, Crew is diabetic, and everything he did as a child — from what he ate to how he performed in sports — was done with a certain precision. "My father had high expectations for me, you might even say cruel expectations. But he cared deeply about how I did in school, how I did in sports, and I basked in that attention."
With his father on the road, Crew was frequently left in the care of family or friends. "I got to meet a lot of people who were in transition," he says. "They were people whose lives had, in one form or another, been severely hurt by a lack of education, by their being fundamentally illiterate."
One of the women who looked after Crew was a housecleaner named Gloria Connelly. "I used to go to these places with her," Crew recalls, "and I learned to iron, to clean." Connelly, who had attended segregated schools in the South, never learned to read or write. Young Rudy bought her a large-lettered primer and in time taught her to read. "In college, I remember getting the first letter she ever wrote," he says.
Crew was the first male in his family to go to college and was among the first blacks who integrated Babson, a small business college just outside Boston, in the 1960's. He became president of the black students' union, wrote poetry and even had some of it published in the radical journal Ramparts. To make money, he cleaned houses, using the skills Connelly had taught him. He was looking forward to the end of such jobs but says, "I didn't know what to do with that piece of myself that just wanted to help people."
It was at Babson that Crew, who had always doubted his intellect, realized he could boost both his academic achievement and his capacity to learn through sheer effort. For a child who had grown up poor, the understanding was a revelation, one that has clearly shaped his thinking as an educator.
Crew had planned to become a buyer at a men's clothing store but changed his mind after working summers coaching inner-city children at a small school in the country. He got a master's in urban education, and later a doctorate in school administration, both from the University of Massachusetts, where he became friends with another education major, Bill Cosby. (The two remain close.) And slowly Crew began to see how he could use his earlier training in his new profession. "My background in economics and management," he says, "gave me a very different metaphor for understanding public education."
The business mind-set hasn't always served education well. In the first half of this century, schools were designed on the "factory model," in which thousands of students traveled through enormous, anonymous high schools like products on an assembly line. In keeping with the times, Crew's model is more service oriented; he wants education to be consumer driven, responsive to the needs of individual parents and students, but on a broad scale, which requires a large and talented work force and some means of quality control or accountability. And he tends to approach problems with a bottom-line kind of pragmatism. "Rudy really does believe that the way you do a job is just to do it," says Harry Spence, Deputy Chancellor for Operations. "He just refuses to get distracted by all the politics and partisan bickering."
One of Crew's first jobs was teaching high-school social studies at a school in Pasadena, Calif., in the mid-1970's. Ramon Cortines was his superintendent, and Crew still expresses fondness for his former mentor. "His office was right over my classroom," Crew recalls. "We got along famously. Ray is a great educator." (Except to offer general praise, Cortines declines to talk about his successor as Chancellor.) When Crew arrived in New York, he learned that Cortines was still in the city. "I tried to have a conversation with Ray," he says, "but I never got to see him." Instead, Cortines left his old protege a cool note. "It said something like, 'I think you will find the children of New York City to be extremely deserving,' " Crew recalls. "I choose to believe that the situation was simply too painful for Ray. I felt bad for him."
Working in schools in predominantly disadvantaged areas, Crew was quickly promoted from the classroom to the principal's office. In time he became an assistant to the superintendent of the Inglewood schools, near South-Central Los Angeles. "It was a rude awakening about the central office," Crew says. "There was no connection to kids. There was no connection to anything. I felt like an empty suit." After a few more years in the California school system, he returned to Boston.
The year was 1987, and the city was still reeling from its bruising battle over busing and desegregation. Crew was the deputy superintendent for instruction, and although he would go on to be the superintendent of the Sacramento and Tacoma school systems, the job was in many ways a dress rehearsal for being Chancellor in New York. "Boston is a small city that passes for a larger one," Crew explains. "It has major-league politics, a major media outlet and all the major educational issues. It's where I grew my political instincts."
Bill Thompson remembers first hearing about Crew from people who had known him in Boston. "He was regarded as the hottest African-American superintendent in the country," he says. Yet as Thompson, who is black, points out: "It's amazing, but he has never become 'the African-American Chancellor.' He's transcended that kind of tag." With his impassive face, Crew often comes across as stiff and bureaucratic, particularly on television, but in private or before small groups, he is gregarious and warm. "Rudy is just a big kid," says Chiara Coletti, his executive director of public affairs. Walking into the Board of Education, he is not beneath trying to catch Thompson in the revolving doors. He is constantly clowning around with his driver, Mike Taylor, and his main security guard, Mark Rampersand, who are frequent guests at his Sunday barbecues. "Sometimes," Rampersand says, "when he's getting home late at night, we'll park his car a block or two from his house and talk for an hour or so about his life outside of his job. He's a real person."
Crew has an uncanny ability to cater his speech — "How are you doing?" quickly becoming "Howya doin'?" — depending on his audience. I have watched him impress a small group of white businessmen at a fancy luncheon at Lutece and empathize with poor black parents from a school in Brooklyn.
"In most of America, there is a marginalization that comes with being black," says Harry Spence, a patrician-looking Bostonian. "But I think Rudy has turned race to his advantage, not in a cynical sense, but in the way he is able to relate to so many different people, across so many divides." Crew ties this ability to his goals as an educator. "It is my greatest hope for children that they learn the ability to adapt, the art of being comfortable in their own skins, regardless of their circumstances or environment. It's important to know the streets, but it's just as important to know corporate board rooms, and the language of those two places is very different."
When Crew got the call to come to New York from Tacoma, he was reluctant to move. He had just bought a house and had recently married Kathleen. He had a boat for fishing, a horse named Dundee and 22 rosebushes in his garden. Judith Rizzo, who worked with Crew in both Tacoma and Boston and who is now New York's Deputy Chancellor for Instruction, was with Crew as he agonized over the decision. "He knew that if he really believed what he'd always said about how public education could work for all students," Rizzo says, "then he couldn't decline the opportunity to prove it on the country's biggest educational stage."
One of Crew's strengths as chancellor has been his willingness to acknowledge the problems in public education. Unlike so many career educators, he is not defensive about the system. "We have not always figured out how to meet our own expectations," he says, "partly because those expectations have been fluid. There was a moving target that did not allow constancy of dialogue with a public that kept saying: 'Give me better schools. Give me safer schools.' "
As Crew readily admits, the threat of vouchers has inarguably provided the stimulus for change. "These reports about school performance are not new," he says. "What is new is that the system is finally having to recognize that the consequence of not meeting those expectations is extinction."
The problem with model programs like vouchers isn't that they don't work (they usually do) but that their successes almost always depend on factors that cannot be endlessly reproduced: limited numbers of particularly talented and dedicated educators who are drawn to new and innovative programs; savvy parents who search out such schools for their children; the students themselves, who, in turn, are better motivated because they have attentive parents; additional funds or services, usually in the form of grants, that some educators are able to win from the finite number of philanthropically inclined businesses or foundations; even the media scrutiny that such models typically come under, which acts as a check on incompetence or abuses.
As Crew will tell you, the biggest challenge facing most urban superintendents is simply attracting, and retaining, sufficient talent. Under the new school-governance law, for instance, Crew can hire and fire district superintendents. In a happy coincidence this spring, contracts for 27 of the city's 32 superintendents came up for renewal, just as the Justice Department was confirming the Chancellor's new powers. Crew was presented with a unique opportunity to shape leadership in the school system for years. But, as Crew despaired in April, "that's actually an extraordinarily high number of people to have to hire at one time. There simply isn't that kind of talent out there."
All professions, including education, must compete for quality recruits, and the most difficult urban districts, including New York's, have long suffered from chronic teacher shortages. While some people will always be idealistic enough to work long hours for little pay in overcrowded and dilapidated conditions, there is little to suggest that a voucher program alone would inspire some 65,000 such candidates to emerge, suddenly, from the woodwork in New York. Although voucher proponents like to talk about "market forces," they seem to forget that teachers are also subject to them.
The failure of the old system of school governance was largely due to the problems posed by scale. The system that Crew inherited and that chancellors have been trying to regain control of for years dates back to the 1960's. At the time, "community control" was a rallying cry of the left. In 1969, after a bitter battle between an experimental community school board and the teachers' union, the State Legislature decentralized the system into the current semiautonomous school districts, which have been run by locally elected boards. The aim, which is similar to that of vouchers, was to give parents more control over the curriculums and budgets in their children's schools. But as is often the case in school reform, decentralization played out with unintended consequences.
In some districts — in typically wealthier, more stable communities — decentralization worked well. But in poorer districts, where students could least afford bad schools, the new system resulted, more often than not, in mismanagement and corruption. The reason was simple: in many of the city's most impoverished communities, schools are often the only decent employer. Consequently, locally elected boards are often under tremendous pressure to dole out jobs to family members or political cronies who can then be counted on, for reasons having little to do with education, to return their benefactors to office. Far from reducing the inequities among richer and poorer districts, decentralization tended to exacerbate them.
In a few places, like district Four in East Harlem, decentralization worked as it was supposed to: freed from board restrictions, accomplished educators like Deborah Meier set up innovative schools. But abilities like hers did not exist on a scale sufficient to transform the entire system. As the perennially low turnout at school-board elections revealed, decentralization did not inspire poor families to take control of their children's schools; political machines and profiteers filled the void.
Under the old system, even criminal board members were seldom voted out of office. A chancellor's attempt to dismiss them was usually overturned by the courts. Some superintendents had what amounted to lifetime tenure; they oversaw the same dismally performing districts for decades. Several boards were marked for years by dysfunction, and meetings in some districts ended in brawls. At the central board's monthly public hearings, parents were known to turn up in costumes and become belligerent.
Chiara Coletti likes to tell a story from the first few months of Crew's tenure as Chancellor. Her office is adjacent to the conference room where Crew sometimes meets with wayward boards. One evening, a shouting match erupted from behind the closed door. Aghast at the board's childish behavior, a booming voice suddenly rose above the others. "Will you people look at yourselves?" The voice was Crew's.
Democracy, of course, is never tidy, but a sane system would offer some check on the looniness, which is what the new law does, by giving the Chancellor veto power over the appointment of superintendents and, by extension, over the hiring of principals. In some ways, Crew is hoping to make schools more autonomous. He is implementing school-based budgeting, in which principals and teachers have far greater discretion in using school funds. But in return for such freedom, Crew has insisted on holding schools strictly accountable for how students perform on standardized tests.
Unlike previous chancellors, Crew has not got hung up on advocating particular ways of teaching. So long as schools can prove that their students are learning, he doesn't care if their approach is back-to-basics or touchy-feely. Crew has set clear guidelines, in a kind of franchise approach, about what he expects children to know and when he expects them to know it. Beyond that, he believes that the board's role is solely to assist schools in achieving their performance goals and to intervene swiftly and decisively if they fail, instead of letting failure persist for years. He has not been shy about using his powers.
Less than a week after the Justice Department ruled in favor of the governance package, Crew flexed his muscles in District 28 in Queens. The district, whose reading scores are low, stretches from the white enclaves of Forest Hills to the immigrant communities of Jamaica. Both the board and the district had been divided for years along racial lines. The previous summer, the district's superintendent announced plans to retire, and at first the board went along with the new rules for selecting a superintendent. But in February, the district consulted with several lawyers and, apparently believing that the governance bill would soon be overturned, the board, alone among the city's districts, refused to abide by the new law and returned to the old procedures, which gave it far more sway over the final selection. Throughout the spring, the board and Crew's office exchanged faxes over the district's noncompliance as Crew made his displeasure known.
On the morning of April 2, the day after Crew learned that the Justice Department had ruled in his favor, he asked Burt Sacks to send a fax to Lynn Gross, the board's president, in which he ordered the board to cease operating under the old selection rules. Sacks also called Gross at home and told her about the ruling and alerted her that the fax was coming. For two days, District 28 continued to interview potential superintendents in violation of the new law. Again, Sacks faxed the board a warning that its actions were placing it in jeopardy. Finally, on the Friday of that week, Crew requested a meeting with the board for the following Monday night.
I attended the session. Gross had neglected to inform the minority members of her board about the meeting until earlier that day. Frustrated that she had tried to circumvent them, they sat at one end of
the conference-room table, while Gross, her lawyer and two other white board members sat at the other. For an hour or so, Gross appeared to dissemble. She was asleep when Sacks called. She was too sleepy to understand what he was saying. She didn't get the first fax. She didn't get the second fax. (She later produced affidavits from her board's secretaries saying that the fax machine had been jammed.) She didn't understand what the faxes meant. She hadn't had time to consult her lawyer. She wasn't required to call board members over the weekend. It takes a long time to call nine people. And so on.
Crew was unimpressed. "You know," he said, "you've got a lot of work to do. You've got test scores that are horrible. You've got a gulf that divides who's learning and who's not in your district that's as wide as this table. You've got principals to hire. You've got textbook allocations with a May 14 deadline. And I will not allow this work to suffer because of what I consider to be a lot of game-playing. This is about children's lives. You can help them or you can play this game — 'I got the fax; I don't think I did.' It's time for one person to make a call."
In the past, such a meeting would have simply led to more meetings. A chancellor had no real authority
to discipline a recalcitrant board, no matter how poorly it or its schools were performing. But Crew had the power to dismiss the entire board. Instead, he chose to make a surgical strike. The next day he called another meeting with Gross and told her: "I am firing you, effective today. I believe that you are impeding the work of this board and that by your actions as president you have put your board and the children in your district in jeopardy. You can fight me on this, but I can tell you right now, I'm going to win. My advice to you is that you should simply walk away with the dignity that usually comes to people after such situations are over and after your long years of service. You've been on this board for 17 years, but your work here is done."
In the months that followed, Crew would wield his new authority in other districts suffering from long-term mismanagement, like District Five in Harlem and District Eight in the South Bronx. In June, he told District 26 that he was rejecting the board's nominee for superintendent, Claire McIntee, a principal in the district. The move baffled the board's members and many educators in New York: after all, the board, which oversees one of the city's best districts, had been successfully selecting superintendents for 30 years. Crew later said that he felt McIntee lacked administrative experience; she was going from running a school with 300 students to a district with 15,000. One parent observed at the time that Crew had gone from a system in Tacoma with about 32,000 students to a system with 1 million.
"I think Rudy made a mistake," says one board official, who insisted on anonymity. Crew worked out a compromise whereby McIntee would serve under a one-, rather than three-, year contract, which he could then choose to renew after he'd had a chance to judge her performance. "There are some cases where I've really dug in my heels," Crew says. "But this was a case where the board asked for, and I gave consideration to, additional information. This is not some Attila-the-Hun world we live in. There has to be some give and take."
Although much was made of Crew's bowing to political pressure, he actually came under far more pressure to rehire Gross, according to Bill Thompson and the Queens board representative, Carol Gresser. After Crew dismissed her, Gross appealed the decision before the entire board and lost in a 3-to-4 vote. "We determined that the Chancellor had not acted in an arbitrary and capricious manner," Thompson says. Gross is now taking her case to court. Ann Hill, Gross's successor as president, believes that Crew was motivated by racial reasons. Gross, for her part, says: "If you take a person with an unblemished record, it seems so totally unreasonable to me that I be removed. It's like getting a life sentence for a parking ticket." But Crew was tired of excuses from the president of a board that had administrated failure for years. He wanted, he says, some accountability.
Although governance has given Crew the leverage he needs to shape the leadership in the city's schools, he still must address what goes on in most classrooms. Driving his agenda has been an almost relentless focus on boosting early childhood literacy and establishing a common curriculum in the city's schools. No one, of course, would argue against having standards, but what they should be, and how they should be measured, has prompted vociferous debate. Crew finds such arguments a dodge. "People have spent way too much time," he says, "talking about the test: 'Here's the test. Is it a good test? Is it not a good test? We ought to have a different kind of test or no test at all.' In the last decade and a half, we have been there and done that."
The really serious work, says Helaine Doran, a director at Acorn, a community-based organization in Brooklyn that has been critical of Crew's efforts, is "providing equal course work for all kids." In one study, the organization found that in several of the city's poorest neighborhoods as few as 30 eighth graders were taking Sequential I Math or Earth Science — prerequisites for upper-level work.
Crew doesn't defend such shoddy offerings or insist that poorer children can't pass the tests that wealthier students can. Rather, he has worked to provide disadvantaged students with additional opportunities to catch up with their more privileged classmates. He has, for instance, established the Math and Science Institute, a successful after-school and Saturday program to help poor black and Latino students gain admittance to the city's elite high schools, where they are currently underrepresented. His point hasn't been simply to boost scores but to help students master the material that has never been offered in their neighborhood schools.
This spring, Crew requested an additional $2.2 million from the Mayor to expand the program. But as Doran complains: "It's a drop in the bucket. You've got something like 10,000 eighth graders, and this money will serve 200 students in Manhattan. Our members feel like this is a middle-class agenda and that it's not serving our kids."
Money, although hardly forthcoming, isn't the only obstacle. More challenging courses require better teachers and equipment. It's a little unrealistic to expect students to do well in chemistry or biology if their teacher hasn't mastered the subject or their schools don't have labs; yet many of the city's high schools lack such basic resources.
By setting high standards, Crew is also creating a perhaps unrealistic expectation that he can reach them overnight. Last fall, he predicted that his emphasis on reading would boost scores among third graders by 5 or even 8 percentage points on citywide tests. This spring, when those scores went up, but not that impressively, Crew came under attack.
Even some board members, like Carol Gresser, expressed disappointment in the results. Crew seemed stunned by the criticism. "We were all pretty depressed," Thompson says. In fact, students' performance in reading was the best in a decade, and, more important, the scores went up in every district in the city, including the Chancellor's, which comprises New York City's 13 lowest-performing schools. What's more, this improvement occurred in a system that, for all its problems, already does well nationally. "People hold up Chicago as some tower of change, and they can't even read in Chicago!" Thompson says. "Something like 22 to 24 percent of students are reading on grade level. In New York, the level is twice that." If nothing else, Crew has managed to halt the downward spiral. If he made a mistake, it was perhaps in overpromising.
Overpromising has always been the strength — and weakness — of American education. "The public's expectations are not too high," Crew insists, but here is where he may be wrong. If America is ever to succeed at educating all of its children well — a goal akin to ending poverty — it will have to relinquish its belief in a silver bullet that will magically, and inexpensively, halt the nation's educational "crisis," a crisis that has existed since the time of Horace Mann.
What Crew needs now he will almost certainly never have: time and money enough for his reforms. With the city battling chronic budget shortfalls and taxpayers in no mood to invest in a new public works program for education, Crew can do only so much. As his third anniversary as Chancellor nears this fall, he has to wonder how much longer he can survive. He has already outlasted most of his recent predecessors.
Even some of his reforms suffer from the problems besetting the system at large. To develop his own talent, for example, Crew has created a Superintendents' and Principals' Institute. At a session in the spring, the scene was an almost comic replica of many classrooms. Sitting up straight in the front row, listening attentively and raising their hands like the ears of little bunnies, were Alvarado, Lester Young and Jim Mazza, who have been among the city's most successful superintendents. At the back, slouching in their chairs, whispering to one another and occasionally rolling their eyes, were several superintendents from the city's worst-performing districts.
Scaling up reform is hard work, requiring simultaneous battles on many fronts, and will require decades, not years, to succeed. At best, Crew can hope for incremental improvement in the system. This may not satisfy the demands of an impatient public, but it is a radical goal. If Crew can replicate the growth he achieved this spring for the next decade, he will increase the percentage of third graders reading at grade level by some 50 percent. It would be the most spectacular rise of student achievement in American public education in a century.
"Whenever I hear people talking about how we should dismantle the public school system," Crew says, "it always makes me think of how we have lived in a nation with a democracy that for the most part has been imperfect. And yet we don't talk about dismantling democracy. We talk about using the constitutional mechanisms to create a more perfect union. And that's what I'm seeking — to create a more perfect school system."
In April, Crew toured several of the city's schools as part of Principal for a Day, an annual city event in which civic leaders go into schools to learn more about the system firsthand. Although in most places the program is an unobtrusive and popular success, at the schools Crew visited he invariably encountered a media herd and celebrity handlers, which were accompanying the more famous of the principals on their rounds: Tipper Gore, Johnnie Cochran and Crew's friend Bill Cosby.
Secret Service agents, talking into their sleeves, rebuffed the legitimate aides-de-camp of lesser officials. Competing advance teams chest-butted in the hallways. Cameramen staked out strategic ground with their portable klieg lights. Photographers pointed long lenses at any hapless child who happened to wander into their line of fire. Journalists squabbled with P.R. people over who had access to which politicians. Giuliani abruptly canceled an appearance at one school after learning that Ruth Messinger was there. In his place, he sent Ninfa Segarra, one of two mayoral appointees to the Board of Education, but security guards, deeming her insufficiently important, turned her away at the door. She left in a huff.
"What a zoo," I muttered to myself as I followed Crew out of one school. He turned on me with visible vehemence and said: "Wasn't it, though? I feel like taking a shower."
One of the places we visited was P.S. 47, a school for special-education students on Manhattan's Upper West Side. Recently renovated, the school sparkled. Walls were freshly painted. Students worked quietly in their classrooms. The adults instinctively began to whisper. We were joined by the principal for that day, the real principal, several other administrators, a couple of teachers and Crew's bodyguard and driver.
But as we approached a woodshop class, we detected a commotion. Inside, a teen-age girl with black hair, pale skin and black glasses was wailing, "I don't care if we have visitors!" as her embarrassed and panicked instructor tried, under his breath, to get her to please be quiet. Who could blame her? At her door stood a gaggle of adults whom she had never seen before, who were upsetting her usual schedule and keeping her from her prized turn at the wood saw. Made uncomfortable by her cries, they were pretending that she didn't exist, which of course made her wail only that much louder.
All of the adults, that is, except for Crew, who immediately strode over to the girl and began talking to her about her project. It was a small moment, but it was an impressive one all the same. I know plenty of educators who would have declined this opportunity to fail at calming a child in front of an audience that included a reporter. He had no assurance that he could placate the girl — after all, her own teacher could not — and he might have easily moved his relieved entourage on to another classroom. Instead, he confidently seized what educators like to call "a teachable moment" and was soon assisting the girl at the saw while the other students gathered round. Having lost their shyness, they insisted that Crew look at their projects, too.
Crew's challenge is now to take such moments and multiply them a millionfold in the city's classrooms every day. As he left the room 20 minutes later, everyone, including the girl, was smiling broadly.
NYTimes Editor's Note: The cover article of The Times Magazine today explores Chancellor Rudy Crew's attempt to transform New York City's school system into a model for the nation. The article notes that Ruth W. Messinger, a candidate for the Democratic nomination for mayor, has distanced herself from Dr. Crew. But it does not report that she and the Chancellor ex changed accusations last week about injecting politics into education; that dispute occurred after the magazine had gone to press.